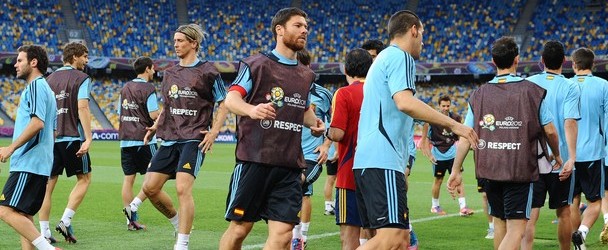 It's strange to think of Italy as upstarts, but given what the Azzurri have been through since their 2006 World Cup, their presence in Sunday's Euro 2012 final is a minor shock. They floundered at Euro 2008, leading to the dismissal of their coach. They finished last in their group at South Africa 2010. Grouped with Spain and Croatia at this tournament, Italy weren't a sure bet to make the quarterfinals, particularly given a squad that lacked proven international scorers.
Three weeks later, Italy has earned a rematch their chance to claim another improbable title. In 2006, the Azzurri won their fourth world championship while their country's domestic league was in the middle of the calciopoli scandal. This year, with another match-fixing probe engulfing Italian soccer, Italy has made another strangely timed run. That they've done so with a less-talented team than the one that won Germany 2006 emboldens conspiracy theorists ascribing undo connections between scandal and success.
Spain – the defending world and european champions – aren't worried about the mystical as much as the practical. Italy has neither lost nor trailed in the tournament, having already claimed an opening match draw from the Spaniards. That the world's top-ranked team played well against Italy and wasn't able to get a win had to be engender some doubts.
Doubts or not, Spain still go into Sunday's final marked favorites. They haven't allowed a goal since Toto Di Natale scored in the teams' first meeting, setting a record Euro record for the longest span without allowing a goal (a streak now up to 419 minutes). Between European Championships and World Cups, Spain have not allowed a knockout round goal since World Cup 2006.
Their quest to extend that streak begins at 2:45 p.m. Eastern on Sunday, when they'll meet Italy in Kiev for the title of 2012 European champions. Here's your playlist:
1. Stories of threes and nines
Italy and Spain's first meeting nearly broke the internet, with tactics freaks freaking out when a sweeper system went up against a team employing a false nine. Crudely translated: One team (Italy) was playing with too many defenders against another (Spain) with not enough forwards. Somehow, we got two goals out of a match that's turned out to be one of the tournament's best.
On Sunday, Italy will start with a conventional back four, though it's unclear what Spain will do. They could see their first match struggles as caused by their lack of a striker. That would almost assuredly push Cesc Fabregas to the bench, even though Fabregas has arguably been their best attacker (when playing). He scored the goal versus Italy and was the team's best playmaker when coming on against Portugal.
In that match, Vicente Del Bosqure gave Alvaro Negredo his first start of the tournament, trying yet another striking option. Negredo was also Del Bosque's first sub after the Sevilla striker never properly utilized. Ultimately, the choice was little more than a hint that Del Bosque doesn't have things figured out. Who knows which direction he'll go in on Sunday.
2. Andrea and Mario
Italy's had been a one-man show throughout most of the tournament, but with Mario Balotelli bagging two goals against Germany, Andrea Pirlo's no longer the only star Spain will have to worry about. Fortunately for Vicente Del Bosque, the holders are well-equipped to handle both.
Against Pirlo, Spain will have a number players capable of pestering him. Xavi Hernandez is most likely. If Spain goes striker-less from the start, Cesc Fabregas will help. Also expect David Silva and Andres Iniesta to help, with Italy having almost no threat from the fullback positions. All of Spain's players are used to the kind of high-intensity pressing that could disrupt Italy.
At the back, the holders have two defenders who match up well with Balotelli, even if a Sergio Ramos-Mario Balotelli confrontation could be explosive. But both Ramos and partner Gerard Pique have a combination of footspeed, athleticism, and strength that will keep them from being overmatched in one-on-one situations.
The bigger worry for Spain is whether their defense can avoid the mistakes that befell Germany – the type of mistakes that were responsible for Italy's only goal during the teams' group stage meeting.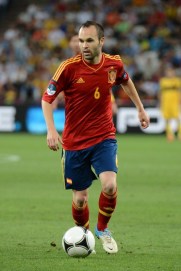 3. Relying on Andres
Even through all three of Spain's forwards played well against Italy, Andres Iniesta was by far Spain's most effective player. His willingness to dribble at and through defenders was Spain's most reliable tactic, with the Barcelona star often forcing sweeper Daniele de Rossi into evasive action to snuff out movements.
Unfortunately, that tactic didn't produce any goals in the first game. Though Iniesta started the movement that led to Spain's equalizer, that goal came via combination play through the middle (David Silva finding Cesc Fabregas running through the left channel). It didn't come through Iniesta's ability to beat a man.
On Sunday, Iniesta will be going at a right side anchored by Andrea Barzagli. His injury during Italy's first two matches caused Cesare Prandelli to go to a 3-5-2/5-3-2 formation. Since he's been back, Italy's gone 4-4-2 (or, 4-3-1-2) and have not allowed an open play goal.
Iniesta may be one of the best players in the world, but Italy's performance since Barzagli's return serves as a cautionary note. If Spain's relying on Iniesta to break down Italy's right side, the tactic's unlikely to be more successful than it was three weeks ago.
4. No more patience
Last round, we noted many of Spain's opening goals during their string of knockout round victories have come in the second half. Although they didn't break through against Portugal, Spain certainly looked better at minute 120 than minute one, hinting Spain's still capable of winning an attritional battle.
Italy doesn't seem likely wilt by attrition. Though Cesare Prandelli has Italy playing with the ball more, they remain very comfortable ceding control of the game and waiting for their opponents to make mistakes in attack. That's how they got their two goals against Germany.
That leaves Spain in the uncomfortable position of needing to increase pressure on Italy while maintaining more than a mere safety net at the back . You would think, given Germany's problems breaking down Italy, one of those two things would have to give. Spain would either have to be more aggressive – more readily push the likes of Jordi Alba and Xabi Alonso higher into the attacking third – and push for a goal, or they could prioritize their shape at the back and perhaps end up waiting for an Italian mistake.
That paradoxical tension will define Sunday's match. The more aggressive Spain are, the more they play into Italy's hands. But if they aren't aggressive enough, they risk Italy taking the game from them, as the Italians almost did in group play.
In that way, this will be the most difficult of Spain's three major finals since 2008. Both Germany (`08) and the Netherlands (`10) were there for the taking. The Spanish could control the game without worrying about how that fed into their opponents' attack. On Sunday, unless they're careful (or happen to score early), the qualities that make Spain so dominant could become their undoing.
ProSoccerTalk is doing its best to keep you up to date on what's going on in Poland and Ukraine. Check out the site's Euro 2012 page and look at the site's previews, predictions, and coverage of all the events defining UEFA's championship.