Richard, Noah and I continue our MLS at mid-season discussion.
We covered MVP and Rookie of the Year earlier.
Fortified with snacks, on we go …
Steve Davis: I have to say, Coach of the Year is turning out be the hardest choice since I had to pick between the nerdy-adorable girl and the drill teamer as my U2 concert date in high school.
I'd say Ben Olsen deserves some Coach o' Year thought. So does Frank Yallop, clearly. But Martin Rennie is killing it at BC Place. And good heavens, Miss Sakamoto, Hans Backe's team is almost beautiful, never mind that his locker room doubles as a triage staging area.
Richard Farley: I think Robert Warzycha deserves some consideration, too. His team's tied for the best GAA, though the pace they play at probably has something to do with that (as does some awesome play from his goalkeeper). Still, it's not like he has a ton to work with there.
That said, I like Olsen. He's making us forget all the questions that surrounded D.C. coming into the season. He's got the defense under control, he's dealt with the lack of production from some big ticket items, and look at what he's gotten out of Pontius and Santos?
That said, I feel like I'm underselling Rennie a bit. And aren't I supposed to be the West Coast guy?
Noah Davis: I'll take up the Rennie torch. The Whitecaps were terrible last year, finishing 18th out of, you know, 18, giving up 55 goals while scoring a league-low 35. Fast forward, and they are third in the Western Conference, sixth overall, and well-positioned for the playoffs. BC Place (5-1-3) is a fortress. There's some turnover in the roster, but not that much. Rennie deserves credit for building a band of castoffs, misfits, goofballs, and, yes, genuine talents into a formidable squad. (As does director of soccer operations, Tom Soehn, for the changes he's made and the picks he's selected. Darren Mattocks is looking more and more like a superstar in the making.) If Rennie can successfully incorporate DP Barry Robson into the mix, he has my vote.
Steve Davis: Ok, Bruce Arena it is. Let's move on.
I can't remember, is Breakout Player an award? Well, we're no slave to The Man … by gosh, let's make it one. Power to the ProSoccerTalk people! I'll take Michael Farfan from Philly.
Noah Davis: I'll take Andy Gruenebaum. Guy deserves a trip to Philly.
Steve Davis: Maybe All-Stars coach Ben Olsen will make him a "coach's choice" and bring him in a couple of weeks.
Hmmm. I'm getting weird looks from Richard, which either means I'm getting too much orange Cheeto substance on our official ballots or he wants to move on to Newcomer of the Year. Or that he is super PO'ed about my Bruce Arena funny.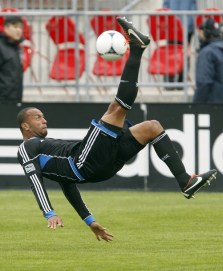 Steve Davis: So … Newcomer of the Year: I suppose we have to leave some room for consideration over Alessandro Nesta, Barry Robson, Oscar Boniek Garcia and other summer signings. But I'm measuring up Victor Bernardez for a ProSoccerTalk Newcomer of the Year t-shirt. San Jose "D" is a such a lesser beast without him.
This is where Merritt Paulson stalks us on Twitter with talk of Kris Boyd's huge second-half ahead, but we'll see.
Richard Farley: Kris Boyd's got to be a whole different discussion, but Bernardez? My notes from Tuesday game were crazy. I have this shorthand I use for effective headers: H+. Within 30 minutes, Bernardez had 6-7 H+'s by his name (going up against Boyd, incidentally). I said to my running mate, "Troy Perkins needs to start avoiding Bernardez." I wish I'd been more clever.
Alright, Steve. As long as you put a bunch of "H+" stickers down those sleeves like they're Ohio State buckeyes, I'm on board with Bernardez being back on top come game 34 …
Either him or Frank Lampard. I mean, why would a guy want to stay with a team he just helped lead to a Champions League?
Steve Davis: Well, Noah just said something about rehearsal for his Pearl Jam cover band starting early and went running out of the room.  …
So, I'll see if I can get Hans Backe on the phone to fill out the rest of Noah's ballot. Or, maybe we'll just put down New England's Saer Sene (8 goals, 15 games … not bad) for him and table the last discussions until tomorrow.
Richard, please text Noah and ask him to think up some choices for Defender of the Year, Goalkeeper of the Year and maybe some wild cards, like biggest disappointment or favorite Honduran or something.