As teams get back to work across Europe, Robbie Rogers is among the players who deserve extra monitoring.
Rogers has always been a quality attacker, but one always perched on the edge of being something special, perennially tiptoeing the edges of the U.S. national team player pool. He was called into early U.S. camps under Jurgen Klinsmann, for instance, but couldn't quite come through with the breakout performances needed to push higher in the order.
At Columbus, where Rogers spent five seasons, he was always more "dangerous presence" than actual danger. The final production never seemed to match the potential nor the larger, overall capacity. "Disappointment" is too strong a word, but there was always a feeling that too much was left on the table in performances that featured a lot of pace and some good technique, but ones that too often languished in an undercooked stew of thoughtless crosses or dubious decisions on the ball.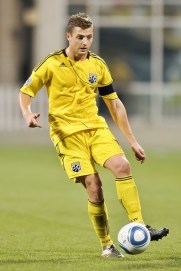 So his move to Leeds last year looked like a great way to shake up the Etch A Sketch and fresh. There's pressure aplenty in the English Championship side, a formerly fabled outfit that's desperate to get back into Premier League graces. Rogers, healthy and set to make his case at Elland Road, just told Goal.com:
[Getting promoted] is the goal for Leeds United. There's a huge fan following [in England] and there's a massive tradition at the club.  There's a lot of pressure there but that's what comes with being at club like Leeds."
That's the kind of pressure Rogers probably needed all those years at Crew Stadium, where his raw talent and speed were usually enough to claim a starting spot.
At Leeds, where he was hurt almost as soon as he touched down in England last winter, Rogers will surely be forced beyond his comfort zone. Which is precisely what the 25-year-old lefty needs.