(Nos. 11-19 in the weekly countdown are here.)
10. Seattle Sounders – The painful nine-game winless is history following a victory over Coloardo, where Mauro Rosales shined once again and where Eddie Johnson kept proving the wisdom of his acquisition. The uptick comes just in time for Wednesday's U.S. Open Cup semifinal, where Sigi Schmid's team will try to reach a fourth consecutive U.S. Open Cup final (where they'll try to win a fourth consecutive U.S. Open Cup trophy).
9. Houston Dynamo – All things considered, a scoreless draw in Kansas City was a respectable result, especially with the added distraction of Geoff Cameron's (seemingly imminent) departure to England's Stoke City.  Jermaine Taylor has been solid as Cameron's replacement alongside Bobby Boswell in the back.
8. Chicago Fire – Speculation continues over the Fire futures of Marco Pappa and Sebastien Grazzini – and it might be taking a toll. A visiting L.A, Galaxy team with reason to be tired, and one without its best two men in the starting lineup, needed to be dealt with professionally and without remorse. Instead, the offense went limp in a 2-0 loss Sunday to the Galaxy.
7. Los Angeles Galaxy – A potentially devastating week in Galaxy Valley finished on an upswing when Robbie Keane (pictured above) turned up with a big, beefy Chicago afternoon, creating chances and finishing coolly in a 2-0 win at Toyota Park. It took some of the sting away from the mid-week loss to Philadelphia, where L.A. dominated at home but flubbed away the points with poor defending to close out each half. Omar Gonzalez's return will do wonders for team morale, not to mention back line performance.
6. Vancouver Whitecaps – Joe Cannon still has it. Maybe not as much of it as in his salad days, but the Whitecaps goalkeeper can still deliver a top-shelf, showman performance at times. His work over two shutouts last week was nothing short of brilliant as the busy Whitecaps won at Colorado and pulled a point from a match at Chivas USA.
5. Sporting Kansas City – The fans certainly noticed Sporting Kansas City's fast start to 2012 – and apparently yielded some benefit of the doubt to the flagging results more recently. Because fan balloting for the All-Star contest against Chelsea landed three SKC starters: goalkeeper Jimmy Nielsen, center back Aurelien Collin and midfielder Graham Zusi. The bunch from Livestrong would probably prefer to talk about their All-Star trio rather than re-visit a hum-drum scoreless draw at home to Houston.
4. New York Red Bulls – The injury bug finally caught up with Hans Backe's team. Or perhaps it's just the New England bug; New York couldn't spell "win" in New England if you spotted them the "W" and the "I." The visitors were overmatched and overwhelmed in a loss to the Revolution outside Boston. (Last New York win at Gillette: 2002). The Red Bulls were still missing six starters, although players are slowly getting healthy.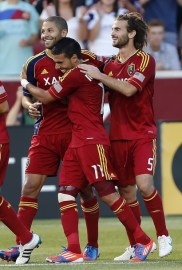 3. Real Salt Lake – A healthy defense sure makes a ton of difference. So does Alvaro Saborio (pictured right)  finally relocating his scoring shoes and lacing 'em up tight for a hat trick in a 3-0 win over Portland. The win helped Jason Kreis' team close the gap on conference leading San Jose. The opportunity to kick that gap in the teeth is up this weekend; keep reading …
2. D.C. United – The long-sought added bulk in the investor department has finally arrived in Erick Thohir, an Indonesian media magnate who is also part-owner of the Philadelphia 76ers. He was introduced to local media Tuesday. Meanwhile, Ben Olsen's club had the week off as organizations around the league made up ground on United in the "games played" column.
1. San Jose Earthquakes – Huge match alert! Saturday. Buck Shaw Stadium. Real Salt Lake in town. I'm dubbing it "Biggie in the Bay." © Frank Yallop's team is in a little dip at the moment. Last week's tally included a loss at Portland and a scoreless draw in Dallas. Meh. Not horrible, but not what you'd expect from the Big Dog league leaders. So, here 'tis, a chance to show they deserve to keep Big Dog status. They'll have to do it without hot-and-cold midfielder Tressor Moreno, who was just released.