Yesterday's overdue addition of financial heft at D.C. United and Monday's dismissal of Portland Timbers manager John Spencer has me thinking about expectations in Major League Soccer.
More specifically, it has me thinking about how critical it is to manage expectations, especially in an expanding, improving and far more competitive MLS.
Ambition is a good thing, of course, but a very fine line distinguishes righteous aspiration and greedy or arrogant overreach. History certainly has already demonstrated the jeopardy of organizational proclamation as MLS elite or privileged; saying so doesn't make it so – it just sets you up for ridicule.
At D.C. United, Indonesian media magnate Erick Thohir and New York-based attorney and political strategist Jason Levien have provided a financial lift while adding new energy to the protracted pursuit of a stadium deal.  They are talking about restoring United to its former place atop the league totem pole in just about every way. This from the Sporting News' Brian Straus in a piece posted today:
[D.C. United] was American soccer's pre-eminent club by every measure as a nascent MLS gained traction in the late 1990s and early 2000s. D.C. claimed three league titles in four years ('96, '97 and '99), became the first U.S. team to win the CONCACAF championship (in '98) and set a standard in branding and stadium atmosphere that the rest of the league now regards as the paradigm.

But the rest of MLS caught up. New stadiums were built, expansion franchises became integral parts of the sports landscape in their respective cities and some clubs even made money. And United slipped from its perch."
Again, ambition is a wonderful thing, and I would love to see United get into a facility befitting the proud organization. But when it comes to matters of success and status, all that ambition must remain attached to a real-worldliness. The reality is that MLS in the late 1990s is gone, gone, gone, as dated as CompuServe. Expectations must be recalibrated accordingly.
Because Los Angeles and New York also have ambition to become Super Clubs, whatever that means. The Seattle Sounders want more titles and trophies to go with the valuable brand name and fabulous crowds. Guys like Andrew Hauptman, the Chicago Fire owner, don't get into this thing to lose.
Meanwhile, teams like Colorado, Columbus and Real Salt Lake keep reminding people that on-field performance, not press conference bluster, is where the rubber meets the road, success-wise.
Meanwhile, I like and appreciate the way Portland Timbers owner Merritt Paulson has handled Spencer's dismissal, removing ego and acknowledging ownership failings in a coaching dismissal 18 months into the MLS life of an expansion team. (One way or the other, either the hiring or the firing, was a mistake; most top-level management would never admit as much.)
But even here, I can't help but wonder if an unrealistic set of expectations has infected the thought process?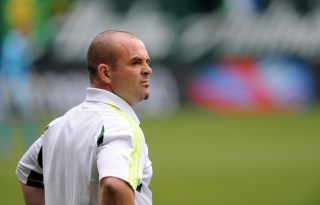 This year, nine MLS clubs will fail to make the playoffs. There was a time when not achieving post-season passage for a couple of consecutive seasons really did signal grand failure in MLS. Generally, not reaching the playoffs once was worth critical examination.
Now? There's a lot more nuance in that conversation.
Every club wants to win and establish market dominance. Several clubs strive to be counted among MLS elite. But even rich guys can't alter a real world of zero sum reality, and they can't rejigger a universe where only a certain, small percentage get to claim truly elite status.
When they lose sight of that, unrealistic expectations can become toxic and begin adversely affecting important decisions – and that's when things can really go south.