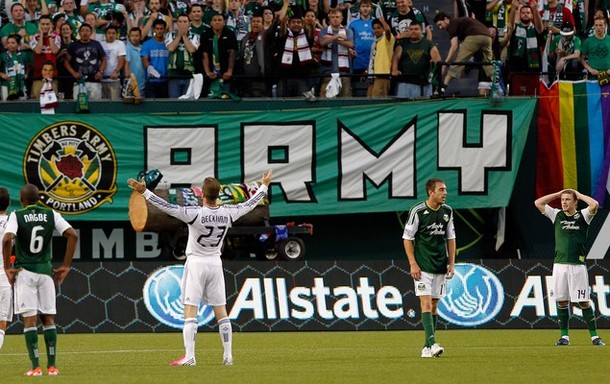 Man of the Match: Two goals, one assist, and a night that will be remembered in the legend of David Beckham. The two goals were ones for the highlight reel, even if they'll be hard to distinguish from his other memorable goals. Still, years from now people you'll hear the refrain: "I once saw Beckham hit two bombs, back-to-back in Portland. Two goals in the first 25 minutes."
Beckham opened his account in the 19th minute, when confusion between Portland midfielders left him an uncontested chance from 26 yards. It was too easy to curl an equalizer into the left-side netting.
Five minutes later, a dead ball at 24 yards out proved just as easy to convert, with teammates crowded into Portland's porous wall helping Beckham give LA the lead.
In the 64th minute, another display of distinctly Beckham skill created LA's final goal. A ball played back to him was hit first time from the center line past Portland left back Steven Smith, Beckham curling it onto the foot of the streaking Sean Franklin. Three touches later, Robbie Keane gave Los Angeles their final goal.
Packaged for takeaway:
Portland came out in a new-look 4-2-3-1 with Lovel Palmer and Jack Jewsbury teaming in deep midfield behind Darlington Nagbe. It didn't work:

Lovel Palmer's positioning was poor throughout the half he played. On Beckham's first goal, he was seen pointing to the spot he wanted Jewsbury to be in (while Jewsbury was marking another man). It wasn't the first time Palmer disagreed with a teammate on his positioning. By the 46th minute, Palmer's night was done.
Darlington Nagbe played too high in that playmaker's role and didn't do enough to show for the ball. As a result, Jewsbury was the player on the ball the most for the Timbers, and although he performed well, the formation is designed to play to Nagbe's strengths. It didn't.

Los Angeles's midfield, by contrast, performed well despite potentially being outnumbered. Beckham had the luxury of being allowed to sit in defense and play deep in attack. Marcelo Sarvas put in admirable work picking up runners from midfield as well as playing to the edge of the box in the attacking phase.
All of which explains why Los Angeles was able to take control of the game after Portland's opening goal, a clever finish by Kris Boyd off a Kalif Alhassan cross. From then on, Beckham was able to orchestrate from deep while Landon Donovan applied pressure in the final third.
After a Kosuke Kimura foul gave Donovan a penalty to convert for the third goal, pressure from the Galaxy captain created LA's last goal of the half in the 28th minute – their fourth goal in 10 minutes. Donovan continued Steven Smith's MLS struggles by beating him on the right flank before playing a ball across the six. Robbie Keane's easy finish gave Donovan his 100th career MLS assist.
Kimura made up for his error with a goal, bringing his new team within one before half. The former Rapid took advantage of a ball spilled Josh Saunders, making it 4-2. Kris Boyd's direct kick skidded to Saunders from 23 yards out. LA's `keeper holds that most nights, but in Portland, it gave the Timbers hope 11 minutes before intermission.
Portland started the second half strong, but with the Timbers unable to get what would have been a crucial early goal, the match quickly evened out. Soon LA had restored their three-goal lead, Beckham starting the attack that culminated in Keane's second goal.
To their credit, the Timbers maintained their intensity throughout the second half, though aside from Boyd's second goal – a direct kick that beat Saunders along the ground, inside his left post – there weren't many signs Los Angeles would give this game up. Long passes beating Portland's high line make it more likely the Galaxy would score again, with Landon Donovan missing one breakaway chance on Troy Perkins.
After the game, new Portland coach Gavin Wilkinson said his team "gets a pass," alluding to a week that saw the dismissal of John Spencer. Individual errors, he said, were responsible for Portland's terrible first half, though he declined to name names. Lovel Palmer, however, was singled out by his substitution, and Steven Smith lost a crucial battle with Landon Donovan on the fourth goal.
It was a resounding victory for Los Angeles in a place few teams have won. Within 28 minutes, LA had posted four in a venue that's played as a fortress throughout much of Portland's MLS existence. Although it remains to be seen where this Timbers team will land, the win was as convincing a sign of LA's resurgence as we've seen since the defending champions shook off their opening season slump.
For Portland, it was a terrible way to move out of the Spencer era. The one thing the Timbers had was Jeld-Wen, where they were coming off back-to-back wins over the Sounders and Earthquakes. Within 30 minutes, LA hinted Portland's home field may not be so special anymore. Without it, what leg does Portland have to stand on?