Soccer birthdays: You forget how young Spain and Barcelona man Sergio Busquets (pictured, far right) is. I mean, a World Cup crown, a European Championship crown, all that sparkle and bling he's earned at Camp Nou. So, let's all not try to think too hard about our own lives and accomplishments as we consider that Busquets turns 24 today. Yep. Just 24.
Fulham and Belgian striker Moussa Dembélé turns 25.
Ahead on the blog today*: Well, a whole lot of stuff. Like thoughts on the final All-Star selections. (Who got the snub … and was it really a snub?) And some thoughts on Michael Bradley's move to Roma, which became final on Sunday. Plus the Monday "Meh" lits and the usual MLS Player of the Week and Team of the Week. See, we didn't lie. Lots of stuff.
RASNoD (Random American Soccer Name of the Day): Matt Jordan
Big Important Story of the Day: Michael Bradley's move to Roma, more yesterday than today, qualifies as significant enough to bridge over from Sunday to Monday.
Big Important Story that you might have missed yesterday: While we were all talking about David Beckham's pair of stunners, Landon Donovan's rather quietly joined the most exclusive of MLS fraternities, the 100-100 club. (It has just one other member!) Take a look at Donovan's latest achievement and where it leaves him on the all-time charts.
Twitter daps: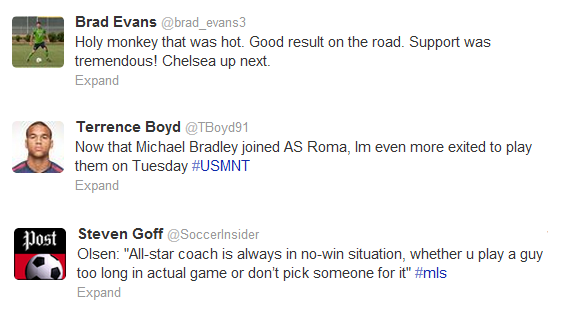 PST background noise while blogging today:  I'll probably re-watch the Galaxy-Portland match; there was so much going on in a wide-open contest, I'm sure I'll see something important that I missed the first time around.
*Always subject to change; you know how it is