It's all going right for San Jose, which retains top spot in ProSoccerTalk's weekly MLS quality rearrangement:
(MORE: Nos. 11-19 in the weekly countdown are here.)
10. Vancouver Whitecaps – These are bold moves being made at BC Place, rearranging the offensive personnel as they are. Yes, the goal production needed a boost. But to rejigger a second-year club (so long, Davide Chiumiento and Sebastien Le Toux) that was en route to the playoffs? Looks mighty risky.
9. Seattle Sounders – No sooner did Alvaro Fernandez get forward to hammer home an important goal in the club's 2-2 draw in New York than stories began to circulate of his potential departure or loan to Colombia's Deportivo Cali. Fredy Montero came off the bench to net the second-half equalizer. He seems OK coming off the bench. For now.
8. Houston Dynamo – Hard to know what to make of Sunday's big walloping of D.C. United, which had so much to deal with after going down a man midway through the first half. Will that 5-0 result be Geoff Cameron's last match? (If so, it sure was a good one for him.)
7. Chicago Fire – The Fire has reason to be upset about defender Arne Freidrich's ejection (and subsequent suspension). The man in the middle seemed to tag the wrong offender on the play in question. Still, Pavel Pardo's pinpoint free kick and some good defending late got Chicago back in the win column after last week's loss to Los Angeles.
6. Los Angeles Galaxy – The national TV ratings were strong for Saturday's 5-3 win at Portland, and what a crackerjack match they saw. (Defense? Let's go with "optional.") David Beckham struck two beauties and Landon Donovan's 100th assist left the U.S. international in very exclusive company.
5. New York Red Bulls – What you have to ask yourself about this team: Is holding serve acceptable while they get a little healthier? I say that Hans Backe's boys are doing fine. Others may see a team that's collected 6 of a possible 15 points lately and want more. One thing is certain: Kenny Cooper is doubly as effective when Thierry Henry is buzzing around. Then again, who wouldn't be?
4. Real Salt Lake – Consider this troubling scene: You go on the road, facing a quality side, you lose an important player and get stuck behind the 8 ball with just 10 men. Things get away from you and before anyone knows it, you're just some poor schmoe on the business end of a back alley beating. The Utah club fell hard at San Jose (5-0) and now faces rival Colorado without the suspended Kyle Beckerman.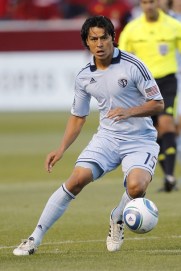 3. D.C. United – That thing I just said about RSL, well, there's a lot of it going around. Ben Olsen was upset that his team didn't show more fight in a 4-0 loss to Houston. But, honestly, playing 70 minutes a man down in muggy Houston – that's just never going to end well. United has lost two of three.
2. Sporting Kansas City – The boys of Livestrong are unbeaten in their last three after professionally nursing home a 2-0 win at Columbus. Isn't this about where Sporting KC started gaining real momentum last year? Their tough week in Round 20 starts Wednesday in Houston.  Roger Espinoza (pictured), playing so well and perhaps SKC's best midfielder this year, will miss as much as a month while on Olympic duty with Honduras.
1. San Jose Earthquakes – The big showdown with Real Salt Lake was a 1-0 match until the visitors went a man down. Chris Wondolowski (a hat trick gives him 17 for the year) and the rest of the Earthquakes took full advantage, running away with an eye-catching 5-0 result. After a little hiccup two weeks ago in Portland, it's all going right once again with the boys from Buck Shaw.