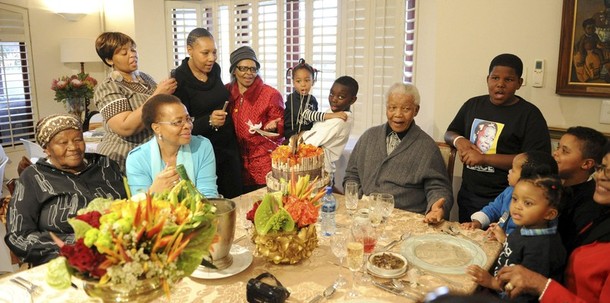 Nelson Mandela turns 94 today, with the world taking time to reflect on the contributions of one of this era's political icons. While the former president of South Africa celebrated quietly with his family, his nation engages in a day of service, honoring his sacrifices. Mandela, who spent 27 years in prison as part of his role fighting the country's apartheid regime, spent the day at home in Qunu, a village on South Africa's eastern shore.
I wasn't even in high school when Mandel was released in 1990. He was more myth than man for a 13-year-old yet to realize a true political consciousness. Now 22 years later, it occurs to me: I never had any real context on Mandela's significance. Where it not for occasions like today's – time taken to remind people like me of Mandela's sacrifices – he could Alexander the Great, Paul Revere, or Che Guevara, even if his life overlapped with my own.
Lira, a recording star in South Africa, helps remind people like me of Madiba's life-changing contributions:
The rest of the world knows him as Nelson Mandela. We, as South Africans, choose to call him Madiba, his Xhosa clan name. Since I was a young girl growing up in the Daveyton township in Johannesburg's East Rand, Madiba has always been my hero.
Madiba was our hope for a change, for a better way of life. He spent almost half his life in darkness so that we could be brought into the light. When that tearful and joyful day came on the 11th of February in 1990, we were able to witness this amazing revolutionary reemerge in freedom, from where he had entered in chains. His glorious emancipation marked our own. The excitement among the people was electrifying! A new era had dawned and you could feel the anticipation in the streets.
Soccer is a small, probably insignificant part of Mandela's story, but Mandela is an important part of soccer's. The fabled games on Robben Island were said to draw his attention from the prison's isolation, and when he was released (and eventually became his country's first democratically elected president), the sport helped empower a reborn nation.
Without doubt, my best Mandela moment in football took place on July 12, 1994. That was the day he was inaugurated as South Africa's first democratically elected president.

It was also matchday at Ellis Park, where Bafana Bafana were playing host to a powerful Zambia, in Clive Barker's second match in charge.

The stadium was crammed beyond capacity with 60 000 people eager to enjoy 'Mandela Day'.

The action was end-to-end and the atmosphere pulsating, but at half-time the match was scoreless. But this was the cue for the big moment as Madiba arrived by helicopter, direct from the inauguration ceremony at the Union Buildings in Pretoria.
South Africa would go on to win the match, 2-1.
There have been other happy Madiba moments, like seeing him hand the Nations Cup trophy to Neil Tovey on February 3, 1996 and being present in Zurich in May 2004 to hear Fifa president Sepp Blatter announce South Africa as World Cup 2010 hosts.
But not even that beats that afternoon in May '94, Mseleku's bearhug notwithstanding. I can hear the crowds' massed chants today, as if the late Sizwe Motaung was still overlapping down the right: "Sizwe, Sizwe, Sizwe!"

Yes, that day marked the rise of Bafana Bafana and the rebirth of our nation. Unforgettable.
I'd like to wish Nelson Mandela happy birthday, but he doesn't read this blog. Instead, I'd like to thank those who reminded me of Mandela's contributions. Some of you will read this. Congratulations on coming together to honor a revolutionary.