PHILADELPHIA – What's worse than a 5-2 beat-down, like the one Major League Soccer's overmatched All-Stars took two years ago?
A 4-0 beat-down, like the one Major League Soccer's overmatched All-Stars took last year.
So here we area again, and the level of competition is not a bit diminished, even if the jersey color has morphed this year from Manchester United red to Chelsea blue.
The MLS All-Star game serves its purpose of attracting a short burst of attention from fans, networks, sponsors, advertisers, etc.  It's like one of those big banners pulled along by a single-engine plane: it creates awareness among set of people who might not otherwise notice, who see it and consider it, if only briefly, while it flashes across the sky.
And I do love the format. In a wasteland of pointless all-star gray screens – baseball is the exception, whereas the rest are mostly empty calorie events for the sake of having an event – Major League Soccer's unique format does manage to add a splash of color.
But one thing surely needs tweaking: either the level of competition needs re-assessing, or the methodology for MLS All-Star selection needs revision.
On the one hand, nobody who understands these things believes a collection of players with two brief practices – even a selection of abundant talent – can compete with the moneyed likes of Manchester United or Chelsea. Or with Real Madrid, Barcelona, Bayern Munich or any other teams that have danced on the edge of MLS deciders' dreams, some closer to fruition than others.
Those are real teams in the truest sense, assembled with an eye to roster balance, chemistry and placement of round pegs into round holes in terms of personnel that fit a manager's idea of how the game is played. Plus, these are "All-Star" teams, too; most of Chelsea's men are internationals who would take a DP tag here.
Meanwhile, the MLS All-Stars are a hodgepodge of mostly worthy talent assembled through the flawed vagaries of traditional all-star selection processes. Fan input is always part of this, and it probably should be – but let's don't pretend it will ever represent a best 11 or best 18. Nor that it will ever deliver the All-Stars their maximum competitive chance.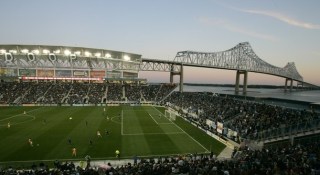 Which means this: the opportunity will always exist for Major League's Soccer's best and brightest to get clobbered – this year to be figuratively whacked and then dumped right into the Delaware River outside PPL Park (pictured, right).
Which wouldn't be a big deal except for this: every time it happens, it validates the soccer snobs who don't see MLS as worthy. And that's an issue.
It shouldn't be, but it is. There should be room for fans to love their La Liga, Serie A, Mexican league, English Premier League, etc., and still have a place in their soccer hearts for their local MLS outfit.  But plenty don't, for whatever reason – and quality or the perception of un-worthiness becomes a convenient excuse.
As one MLS executive told me here in Philadelphia: "Every time we get beat badly in one of these games, the very fan we need to go get says, 'See there. That's why I don't watch MLS.' And it kills us."
Major League Soccer needs those fans. It may not always be that way, but in 2012 it is.