There are big bags full of "interesting" in Brian Straus' wide-ranging interview with MLS commissioner Don Garber, which just posted in two parts on the Sporting News' website.
One of the most fascinating and potentially incendiary part of the conversation was Garber's response to the "You Suck …" chant, an ongoing conundrum that still reverberates painfully through some MLS grounds.
The chant, on opposition goal kicks is, "You suck, ***hole."
It's juvenile. Furthermore, it's a doggone cliché, not a bit creative. The YSA-obsessed brigade really should just cut it out for the better good.  There are so many appealing ways to express true fan passion through displays and chants that are relevant and uniquely meaningful.
But the fans aren't really attached to that chant per se; it's the larger meaning and the desire in some fan corners to take MLS into more edgier places that a few supporters' groups are determined to protect. So the YSA chant debate, so silly on its face, has come to represent something larger; it's a proxy in the tussle between two disparate sets. More on that in a minute; first, here's what Garber had to say:
That is just infuriating to me. It's just so uncreative and ridiculous, and we need to stop it. Our broadcast partners don't like it. When vulgarity is going over the air, it's an issue with the FCC and we've got to stop it. (New England Revolution president) Brian Bilello stopped it in New England, and I really appreciated what the Midnight Riders did. They weren't happy about it, but I looked to that as I sat with Sunil Gulati at the (Red Bulls) game and I said, "How'd you stop it in New England?"

He said, "We sat down with them and said, 'You've just got to stop.' "

They need to stop it in New York, and they need to stop it in a handful of other markets. And if they don't stop it, we're going to have to find a way to eradicate it from our game. We can't have young kids in stadiums listening to vulgarity. No other league would tolerate it. No other public event would have it and we can't tolerate it in Major League Soccer.
As I said, the deeper fissure here isn't the chant. Most reasonable supporters, especially upon hearing Garber's sound reasoning, would gladly drop that particular set of words. But the debate opens deeper wounds, some of which are infected from years of scab-picking abuse.
It's a fight between "fans" and "the establishment," in some places.
On one side are "true fans," the hard-core set that loves soccer, dies hard with their side and badly wants their home ground to emulate those overseas and in points south, a place of one shared, unbending desire: to see their team win.
On the other side are organizations that seek to protect a more contained set, the "families." The moms and dads are looking for a night where soccer meets some loosely defined notion of wholesome entertainment. This set might not be as invested in the outcome, and in many cases they are more concerned with decorum and public civility than with win-loss records.
So YSA has become a referendum on what the club and it's most identifying, tangible element (its stadium) will become. In places like Portland, Seattle and Kansas City, it's a fans' funland, where most anything goes so long as it rests inside the letter of the law.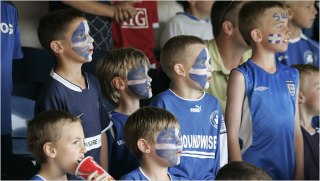 In places like New England, Columbus, Denver and Dallas, more weight is given to families, in large part because that's their current customer demographic. Efforts to placate the harder-edged set amount to an ongoing push and pull, efforts that usually resemble a marriage of convenience. Progress comes and goes and the couples sometimes enjoy a good time together, but diverging ideas remain unresolved and an underlying hostility can never completely be erased.
Here's the thing: everybody's dollar is just as green. There are ways of compromise on the bigger issues.
It does seem to be about ongoing communication. The answers aren't easy, but they are out there – so long as everyone doesn't check their "reason" and "common sense" when they meet to talk about it.
That probably starts by eliminating YSA. It really is such a pointless and useless cliché.