Soccer birthday: Colorado Rapids striker Conor Casey didn't make it to this year's All-Star game. Too bad, too. Because wouldn't it be a hoot to crack the All-Star onion basket on the man's 31st birthday?
Big Important Story of the Day: Major League Soccer's All-Star game is tonight at PPL Park (pictured) outside Philadelphia. The MLS selections will meet reigning European champion Chelsea. The league's All-Stars have taken two consecutive beatings in this game (5-2 and 4-0 to Manchester United the last two years) So let's see if they can't reach a little deeper for something more in this one.
Really Super Big Important Story of the Day: The United States women's team opens its Olympic bid, hoping to go one step further than last year's Women's World Cup, which ended in a loss to Japan in the final. The Americans meet France in Glasgow as the 2012 Summer Games begin. (Yes, two days before opening ceremonies. Soccer is special that way.)
What you should watch on TV: The U.S. women's match kicks off noon ET, live on the NBC Sports Network and the NBC Olympic Soccer Channel.
Coverage for Major League Soccer's All-Star clash with Chelsea begins at 8:30 p.m. on ESPN2.
RASNoD (Random American Soccer Name of the Day): Joy Fawcett
Ahead on the blog today*: Plenty of this and that from the All-Star game, ProSoccerTalk's home away from home for the week. And plenty of this and that on the Pia Sundhage's U.S. women's team.
Plus, Major League Soccer's rankings and the Weekly Panic quotient. It's a big day in domestic soccer – so a big day on the blog, too.
Twitter daps: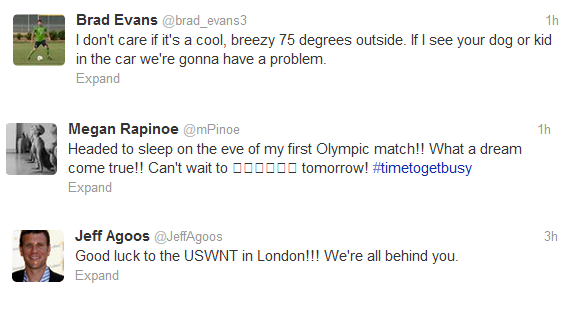 PST background noise while blogging today:  Soccer podcast catch-up day. I'm sure I'll start with MLS Extra Time.
We'll leave you with this: I know some people are wondering if MLS should return to the old East vs. West format, including some voices in the game that I greatly respect, like ESPN's Taylor Twellman. But that means naming about 40 All-Stars; and really, are there 40 MLS men worthy of true All-Star status, without reconsidering the very definition of the word? I'm not so sure.