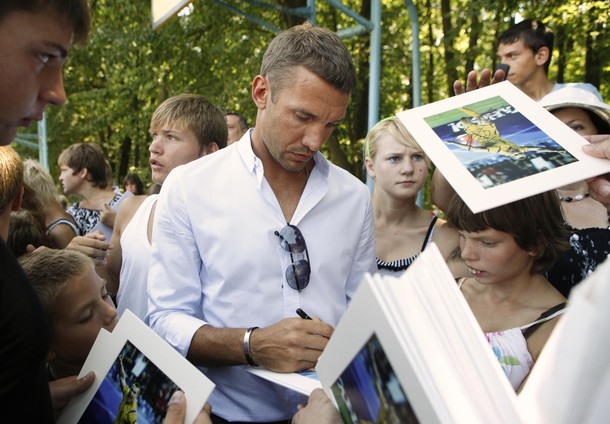 The biggest star to ever wear a Ukraine shirt is done with the game. In a statement released on Dynamo Kiev's website, former Ballon d'Or winner Andriy Shevchenko announced his retirement from soccer. The 35-year-old striker who scored twice in Euro 2012 will pursue a career in politics.
"Perhaps, I will shock everyone," Shevchenko's statement read, hinting irony may be a major part of his political career, "My future has nothing to do with soccer."
Nobody's really surprised by this. Many had speculated he might try to move to Major League Soccer, but the details never quite added up. Perhaps Sheva was the 35-year-old that could play through Washington D.C.'s overbearing summers. But that assumed there was interest on both sides. That Shevchenko has already announced his post-soccer plans hints he's been thinking about life away from the game for some time.
For many, Shevchenko will always be a Roman Abramovich toy that Chelsea managers never wanted to play with. These things happen when the most important move of your career coincides with the explosion of broadcast availability across the globe.
Shevchenko's major accomplishments were done by the time Milan sold him to Stamford Bridge in 2006. Across Ukraine and Italy, he'd already been a part of six league champions, including a Champions League winner in 2003. Over his first stretch with Milan from 1999 to 2006, Shevchenko averaged 18 goals per Serie A campaign, chipping in 37 Champions League goals along the way.
Shevchenko gave us a final glimpse of his brilliance during this summer's European championship. It also gave us a chance to reflect on the player he was. After the Sweden game, the BBC's customary crescent of studio pundits shared stories of the then-Dynamo player's pace during his first meetings with Arsenal. Part of a team that won five-straight Ukranian titles, that Shevchenko had nowhere near the exposure of the later, £30 million bust. By the time José Mourinho was trying to force him into his plans at Chelsea, the Dynamo Shevchenko had become the thing of legend and film. The Milan Shevchenko was the guy who couldn't cut it in London.
Shevchenko retires having scored 321 all-competition goals for Dynamo Kiev, Milan, and Chelsea. His 48 goals for Ukraine are a record. He may not have come off at Chelsea, but he was a star everywhere else.