Major League's Soccer's All-Star contest is a worthy event, but one that is undeniably flawed in plenty of ways.
Ben Olsen found himself in a real pickle when an early injury to one center back forced the All-Star coach to leave his other starting central defender, Jay DeMerit, on the PPL Park field for the full 90.
Vancouver officials have commendably taken the high road, but they surely are not pleased – and for good reason. Among all All-Star performers, DeMerit had the toughest haul. He played Sunday night in Vancouver, flew all the way across our big land into Philly, faced down Chelsea's array of A-list attackers, flew back across our big land into Utah on Thursday (with significant airport delays!) and then faced one of the league's top teams Friday.
That's where the glaring imperfection comes in. A game on Friday, two days after an All-Star contest? That just should not happen.  Period. Probably not the match on Sunday night, either, but that's a lesser offense.
(MORE: Drilling down on last night's 2-1 RSL win over Vancouver)
But all that is water under the Commodore Barry Bridge now. The question soon became, should DeMerit have played at Rio Tinto on Friday? It's a tough call, because it really is such a big match, third-place Vancouver vs. second-place RSL.
The answer seems clear now: it was probably a mistake, just too much to ask of a stand-up guy who was never going to say "no" if asked.
So Vancouver manager Martin Rennie should not have asked.
DeMerit is among the top MLS center backs, a clear notch above anybody else Rennie could have stationed next to Martin Bonjour. But DeMerit's fatigued state hurt the Whitecaps in last night's 2-1 loss.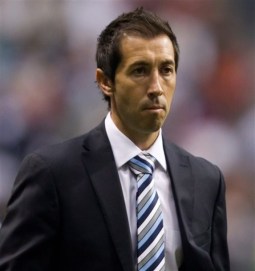 It wasn't just the first-half handball, where fatigue, faulty timing and sluggish reaction time all may have contributed. And it wasn't just the under-hit back pass that led to Joe Cannon's ejection, effective finishing any chances of a late Whitecaps' rally.
DeMerit wasn't at his best throughout, doing little things here and there that we usually wouldn't see from a World Cup veteran, like giving away an unnecessary corner kick.
It's not his fault. It was a tough call, but in hindsight, Rennie (pictured, right) leaned the wrong way.
What the coach told The Province late last night: "I think we've taken the high road on the situation with Jay and the All-Star game, but it didn't help us tonight. I think Jay being 100 per cent would have helped. As would a number of other little things."