You know we're getting to the business end of Major League Soccer's season when they draw a red line in the official MLS standings, indicating the playoff demarcation line.
I mean … it's red! That means it's serious, and no one is messing around anymore.
We have reached the playoff backstretch. This is where supporters and journos start leaning in close, where we start talking scenarios and match-ups, where we commence to dissecting remaining schedules and such.
Only, the way I'm seeing things, the playoff race in one conference is more or less decided.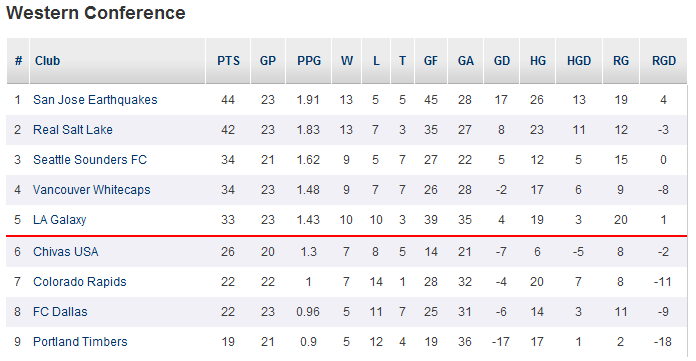 In the West, five teams have clearly distinguished themselves over the remaining foursome. It could change, of course, but I would wager a sixer of cold Pacifico that the five teams currently on top after Round 21 will remain on top when the season wraps up on Oct. 28.
I know that's three months away, but let's take a look:
Here's why I see San Jose, Real Salt Lake, Seattle, Vancouver and Los Angeles still occupying all the playoff chairs when once the regular season music stops:
The Round 21 results only reinforced the positioning. In two cases, home teams in the bottom half fell to visitors from the top half. Dallas desperately needed to top Los Angeles in Texas – but Bruce Arena's team won. And Colorado needed to make up ground on Seattle – but the Sounders won outside Denver. Both results carry psychological weight.
I just don't see anyone among the bottom foursome capable of making a big move. Dallas has George John back on the field, and Blas Perez should be back soon. Still, that team has badly lost its way, and I just don't see any reason to believe a dramatic rally is  in the works.
Colorado keeps going the wrong way, having just tied a franchise record with its sixth consecutive loss. Conor Casey can't quite get both scoring shoes on (two goals in 12 games since returning from injury), and captain Pablo Mastroeni isn't around to help steel the recovery.
Portland? Please.
Chivas USA is the one team that could upend my theory, especially since Robin Fraser's men have three games in have on two of the teams they would probably have to catch. The problem is that Los Angeles, Seattle or Vancouver would have to simultaneously lose their way.
Seattle and Vancouver are aggressively fortifying their rosters. Los Angeles is about as fortified as they can get, already blessed with three world class Designated Players.
So, Chivas could get there – but I don't see it happening.
There may be some mystery going forward in the West, but there's a good chance it will only be about positioning and the new benefits of home field advantage.