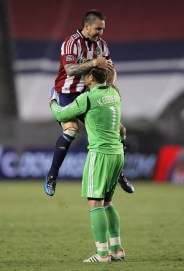 Goalkeeper:
Rationale, motive and intent: I already spelled out how good this man was Saturday in this post, and in this one (with highlights). So check out his good work. You may even be inspired to go buy a pair of goalie gloves. (Honorable mentions, by the way, to Columbus' Andy Gruenebaum and Seattle's Michael Gspurning.)
Back line:
Los Angeles' A.J. DeLaGarza
Houston's Bobby Boswell
Chivas USA's Danny Califf (pictured)
San Jose's Justin Morrow
Rationale, motive and intent: DeLaGarza took a lot of L.A.-linked heat earlier this year for his part in the Galaxy defensive frailties. But he's probably best equipped to play along the outside anyway – which is where he was in Saturday's 1-0 win over Dallas. Boswell is playing his best soccer in two or three years lately. Morrow's big week started in All-Star bliss, and ended on the back end of another dramatic San Jose rally.
Midfield:
Montreal's Felipe
Chicago's Pavel Pardo
Houston's Brad Davis
Rationale, motive and intent: Alessandro Nesta had a lot of spotlights pointed his way, debuting for Montreal in a biggie vs. New York. But Felipe made a bunch of them turn his direction with three assists in a win worth talking about. Pardo has kicked it up a notch lately – and he was pretty solid before. Davis? Two more assists. Yawn. What else is new?
Forward:
Columbus' Jairo Arrieta
Real Salt Lake's Alvaro Saborio
Seattle's Eddie Johnson
Rationale, motive and intent: Johnson had just one goal, like a bunch of others. But he was strong otherwise in the team's road win at Colorado. And Johnson's game-winner in the All-Star game has to count for something, right? Arrieta (our PST Player of the Week) and Saborio nailed two each.