(MORE: Nos. 11-19 in the weekly countdown are here.)
10. Columbus Crew – Make that two nice wins in a row for the Crew, which suddenly has a potent strike duo. Jairo Arrieta looks like a real find, especially after hitting two in a Player of the Week performance against Sporting Kansas City. Now Argentine striker Federico Higuain is en route as a new Crew DP. Meanwhile, goalkeeper Andy Gruenebaum certainly reminded everyone why he should have been an All-Star, doing his part to hold off Sporting Kansas City in Columbus' big victory at Livestrong Sporting Park.
9. Seattle Sounders – Eddie Johnson's massive week started with the game-winning goal in All-Star proceedings at PPL Park. And it ended with his team-leading ninth goal in a nice road win at Colorado. This hot patch for Johnson (pictured) comes just as things are about to get awfully busy, with a U.S. Open Cup final just around the corner and CONCACAF Champions League not far behind.
8. Sporting Kansas City – Peter Vermes' team is moving the wrong way again. Yes, they were dominant most of the night against Columbus, but the bottom line says "loss." And that came after a scoreless draw against New England in SKC's previous league match at home. The frustration factor is obviously rising.
7. Chicago Fire – Goalkeeper Sean Johnson was nothing short of sensational as the visiting Fire made the most of Chris Rolfe's early goal, straining to hold off San Jose along the West Coast. A goal deep, deep, deep into stoppage time meant Chicago had to split the points – but they can still feel good about taking a point from the West's top club. Austin Berry's Rookie of the Year campaign still looks strong.
6. D.C. United – Things were awfully busy for a team that was idle in league play last week. Dwayne De Rosario and Chris Pontius hooked up for a big All-Stag Game goal. Then on Saturday, the Black and Red welcomed Europe's newest power club, Paris St. Germaine in a friendly. A resurgent Columbus Crew visits the nation's capital this week as D.C. rejoins league play.
5. Houston Dynamo – Geoff Cameron may be missed at some point, but the Orange hasn't put a foot out of place yet, marching steadily up the Eastern Conference table. Last week's win over Toronto was the Dynamo's fourth in a row. Brad Davis is right where Brad Davis usually can be found, at the top of the MLS assist leadership. Meanwhile, Bobby Boswell has assumed tight control along the back line.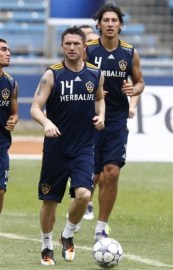 4. Los Angeles Galaxy – The Galaxy kept piling up the points (now 13 of a possible 15 lately) in a 1-0 win at FC Dallas. Robbie Keane didn't get the game-winner (that was Mike Magee), but the Irish striker conducted the offense with a veteran's verve. In the back, Omar Gonzalez (pictured with Keane) was back in the starting lineup and looking quite capable; we'll see how the repaired knee responds this time.
3. New York Red Bulls – Tim Cahill should get his first Red Bulls run-out tonight in a high-profile friendly against Tottenham. The more important match comes three nights later as Hans Backe's stacked roster travels down to Houston. Wonder how Cahill feels about heat and humidity like he never got close to in all those years in Everton?
(More: has there been a more talented roster in MLS? Ever?)
2. Real Salt Lake – Jason Kreis' team is first into the CONCACAF Champions League pool, playing tonight in Costa Rica. They move into the regional tourney off a nice win against Vancouver, thanks to a pair of Alvaro Saborio strikes.  Kwame Watson-Siriboe will move back to the bench when Jamison Olave is healthy; perhaps when Chris Schuler is back, too. But the young man has been up for the job at center back so far.
1. San Jose Earthquakes – The calls for Justin Morrow to get a national team call-up just won't stop rising, and the man's big week in Round 21 certainly won't hurt. It started with Morrow drawing praise for his work up and down the left side in the All-Star game and ended with his helpful role in the 1-1 draw at Buck Shaw. A late draw, that is, as Steven Lenhart scored in the 8th minute of added time.