France, the U.S., Japan, and Canada all advance to the semifinals while gifting us with some unforgettable moments. Let's relive them together, shall we?
Alex Morgan's frightening clash with Jenny Bindon.
Probably the most widely discussed moment of the round, New Zealand goalkeeper Jenny Bindon and Alex Morgan were involved in a truly terrifying collision outside the penalty box. Stretchers were summoned as both players remained motionless on the pitch. Calls for a foul and/or subsequent card went unheeded as referee Jesica Di Iorio whistled for play to resume. Both players ultimately regained their bearings but still looked listless even after the final whistle blew.
Morgan's hard-earned assist.
Before clattering into Jenny Bindon, Alex Morgan provided Abby Wambach one of the assists of the tournament. Morgan displayed her much-improved hold-up play for the second time in as many matches. She warded off her defenders just long enough to send a wonderfully weighted ball Wambach's way. It marks Wambach's team-leading fourth goal Morgan's team-tying third assist.
The celebratory cartwheels.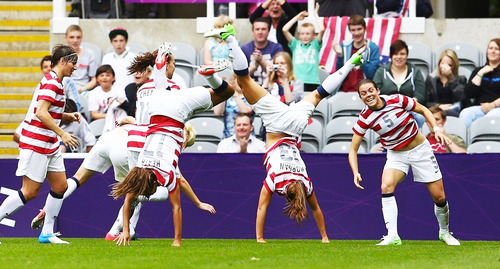 The USWNT added another goal celebration to its ever expanding repertoire. In an apparent tribute to gold medal-winning gymnast Gabby Douglas, the team feted Wambach's goal by launching into cartwheels. The spontaneous show of calisthenics failed to get unanimous praise, though. New Zealand coach Tony Readings voiced his displeasure, saying "I wouldn't have done that." Tribute or affront to the Olympic spirit? For one, it helps having something to celebrate.
Sydney Leroux's reaction after scoring.
The U.S. was three minutes away from securing a place in the semifinals, but substitute Sydney Leroux officially put the contest to bed. She made a blistering run down the right flank that bamboozled the New Zealand defense before powering in a shot that beat Jenny Bindon (who was somehow still standing after moment no. 1). What followed was unbridled euphoria, starting with Leroux's shell-shocked expression and the 'oh…my…God!' exclamation to pal Lauren Cheney. First ever Olympic goal? The moment's all yours, Syd. Own it.
Canada's .GIF-able goals.
The Canadians delivered the shock of the tournament by knocking out well-to-do hosts Great Britain thanks to a pair of stupendous goals. 21-year-old Jonelle Filigno got the upset underway in the 16th minute when she dispatching a scorching half-volley past Great Britain goalkeeper Karen Bardsley. Christine Sinclair would go on to supply the knockout blow. Her potent free kick evaded the Great British defense and put the match out of reach. The goals were the first Great Britain conceded of the tournament and would ultimately be the last. The Sinclair goal in all its glory:
Shinobu Ohno's skillful goal that sent Brazil packing.
World champions Japan withstood Brazil's increasingly cynical challenges with undisturbed repose. A goal down with 20 minutes left, Brazil resorted to hopelessly thuggish tactics in an attempt to stop play. Japan would have the last say with a stunning second goal. Shinobu Ohno deftly controlled a pass from teammate Yuki Ogimi, made space for herself and rocketed a shot past goalkeeper Andreia. The goal sees Japan progress to the semifinals and sends Brazil back home.