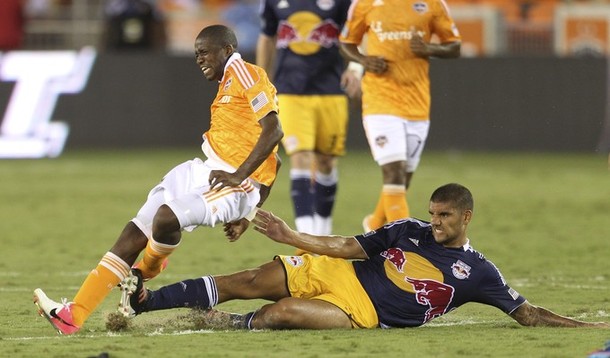 The Most Talented Team Ever era of Red Bulls soccer opened with a cold shower. Houston dominated New York on Friday, posting a 2-0 victory which played more lopsided than the final score. The Dynamo took the lead in the second minute and never allowed Hans Backe's high powered attack a decent look on goal. Even the attempts on target, one-sided as they were (16-5, Houston), exaggerated New York's presence at BBVA Compass Stadium. The Red Bulls entered the weekend leading the East but, thanks to the result, could be sitting third come Monday.
(MORE: Drilling down on Houston's Friday win)
It was an eye-opening night for Houston (who played like an MLS Cup favorite), but given how much space New York's potential has occupied on this blog, it's worth noting the Dynamo exposed a major flaw in Red Bulls' set-up. No, they didn't expose the defense, which has been exposed for some time. Like Montreal last week, Houston's ability to consistently play behind the New York's fullbacks was a key, but this is nothing new. You get behind the New York defense, and the organization falls apart too quickly. They don't seem to know if the center halves are going to come help, if the line should be playing higher (or farther back), or if the fullbacks should be making adjustments. They're far too vulnerable to build up no more innovative than what you'd see at a local varsity soccer game. "Just kick it over there" shouldn't be a winning tactic in Major League Soccer.
Even with the addition of Heath Pearce, the Red Bulls' defense needs help. They need a midfield that's capable of holding more of the ball and, when not in possession, breaking up play before New York's defense can be exploited. While NBC's broadcast noted those qualities were lacking because of Dax McCarty's suspension, McCarty didn't help in Montréal. While McCarty's effort can never be questioned, too often he's all effort and no results.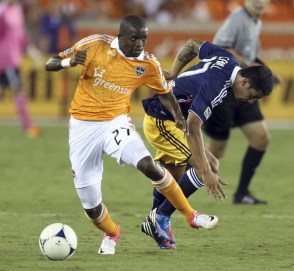 (MORE: How the Red Bulls were taken apart in Montreal)
A central midfield of McCarty and Tim Cahill sounds encouraging, but it's unlikely to offer much improvement on Friday's duo. Teemu Tainio had a good night breaking up play (there was just too much, in too many places for him to handle). McCarty (if he even starts) can't be expected to do more, nor will he be expected to offer an improvement in possession. New York will still be left with a duo that doesn't do enough preventing, doesn't do enough retaining.
This is the difference between "most talented" and "best" team. It's a line Steve and I carefully walked throughout the week. Is New York the most talented team Major League Soccer's ever seen? Probably, we said. Is it the best team? Way, way too early to tell.
Hans Backe has to get all the pieces to gel together, and based on Friday's returns, he has a major problem. How can Thierry Henry, Kenny Cooper, Sebastien La Toux and Tim Cahill be effective if New York can't win or keep the ball? The lack of an answer is forcing Henry to drop deeper and deeper, earlier and earlier in games, to the point on Friday he often had to drop to Tainio's level to pick up the ball.
(MORE: New York, 2012, versus D.C. United … 1998)
This is the part where we need to pause and give Houston credit, because they played better than almost anybody New York will face this season. If the Red Bulls have a problem, it's a relative one. Normally that would be a mitigating factor, but at this point of the season, it's a major problem. If Houston keeps playing like this, there's little chance New York's path of MLS Cup won't involve the Dynamo, be it in Harrison or Houston. If New York's midfield is fine against the rest of the league, it could prove a meaningless consolation. Their midfield needs to beat Houston's. If they can't control the game against a Dynamo team that has no love of possession, the Red Bulls are in trouble.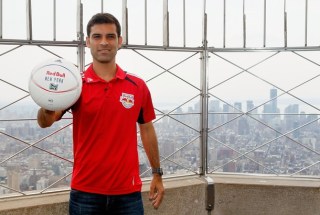 All of which leads us to the elephant in the locker room, the skeleton in the New York closet, the man whose disappearance has become more clichéd than compelling. Almost all of the problems New York's experiencing would be addressed if Rafa Marquez were in the team. Currently out with a calf problem, the league's second highest paid player is the type of midfield anchor that could free teammates to apply the pressure New York needs through midfield. With an ability to read the game that is as good as anybody's in the league, Marquez could break up and distribute in ways Red Bulls will desperately need if they're to fulfill their payroll's promise.
That's the good news. If New York does have these two major flaws, one player could help both. And, that player's already under contract.
But you know the bad news. Rafa Marquez has been under contract for two years, and aside from a great spell to open his tenure in Major League Soccer, he's been more distraction than attraction. Two controversial suspensions, dalliances with moves away from the league, and the ever nebulous 'attitude problems' define Marquez's time in New York. If Marquez is the solution, you have a problem. A different problem, but a problem nonetheless.
That may be the biggest issue for New York. Last night's final was disappointing, as was the drop to second in the East. The midfield needs to start keeping the ball and protecting the defense, but that only touches on the real problem. New York, in the way they've constructed this team, may have put themselves in the unfortunate situation of needing Rafa Marquez. Red Bulls may now be relying on the unreliable.
There are other possibilities. New York's current midfield may provide something we can't currently envision. Or perhaps Hans Backe will shift hisformation to bulk up the midfield. Maybe that was the problem on Friday – New York's 4-4-2 against Houston's 4-3-3 – but this isn't a one night issue. This has been a small problem all year, one that's going to be a major issue now that Tim Cahill – more attacking midfielder (or forward) than central mid – has to play in the middle. The problem may not be as big when they're not playing Houston, but at some point, this Red Bull team's going to have to beat the Dynamo.