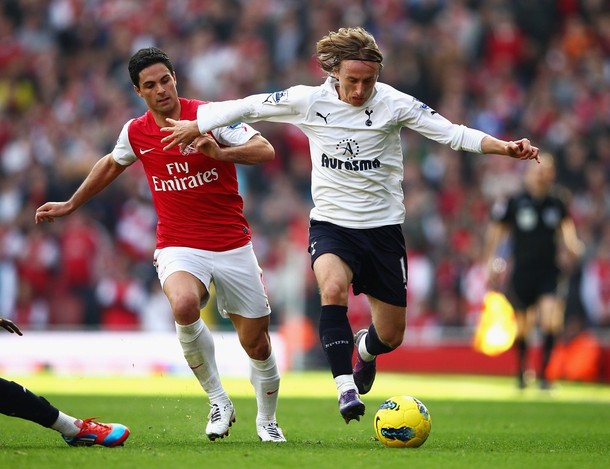 It's time for a Luka Modric update: Nothing new has happened. He still wants to move. Tottenham's still waiting for somebody to hit the far right end of possible evaluations for the player. Check back at the end of the month.
ESPN's newest acquisition, Gabriele Marcotti, has some new thoughts on the matter. Well, 'new' might be an exaggeration, but they're a great synthesis of what's happened, an evaluation fueled by former manager Harry Redknapp's recent revelation that Modric was promised a move last year. Marcotti astutely points out that such promises mean nothing in the face of a signed contract. As new Spurs boss André Villas-Boas has noted, Tottenham chairman Daniel Levy is doing what's in the club's best interest.
Which, of course, is his job, but the promise-breaking business isn't one you should enter into lightly. Modric's situation is so extreme (an elite player set to make elite money after an elite transfer fee's paid) few players, agents, or opposing teams will adjust their strategies for it, but add enough skeptical incidents together, and it becomes a small factor when you're trying to get a player signed for a fifth year or somebody is deciding between Tottenham and Liverpool.
(MORE: Luka Modric forcing the issue at Tottenham.)
The Modric situation. The Robbie Keane situation (when he wanted to move to Liverpool). The Dimitar Berbatov situation (before his transfer to Manchester United). All clubs have their approaches to managing players, but Tottenham appears to have a healthy incredulity for how world soccer works. Player power? Why? To this point, that mindset has served the club well. For Spurs' sake, hopefully the policies don't become a factor in how players view the club.
Tottenham's hypothetical reputation is not going to get Modric closer to Real Madrid. As Marcotti put it, he's paying a high stakes game of chicken with the club, one in which he holds few cards. He wants to move? Too bad, Levy can say. We have a contract and an evaluation of your price. What do you have? Nothing? OK, this meeting's over. Modric's leverage is almost non-existent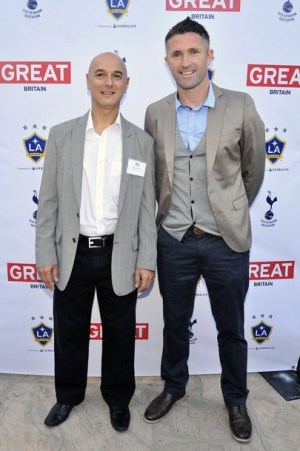 But Modric's lack of leverage (or, how it came about) is why the normally unsympathetic athlete deserves some of our consideration. When Spurs drew Modric to London from Croatia's Dinamo Zagreb, they signed him to a six-year deal – a long contract for a then-22-year-old who'd never played outside of the Prva HNL. Could Modric had signed a shorter deal, a deal acknowledging his value was likely to increase after a couple of years at Spurs? Probably not. Dinamo wanted a record fee for him, and if Spurs were going to pay it, they'd want to recoup their investment somewhere in the deal.
The value comes in those years where the player's contributions exceed the club's expenditure. If a player doesn't want to give the club those value years, the club can balk and tell the player to find another buyer. Contrary to popular belief, the line of teams willing to pay record fees for relatively unproven players is rather short. If Modric had other clubs willing to pay £16.5 million for him, he'd probably have signed a four-year deal. And, he'd probably be playing for Chelsea right now.
Over the last two seasons, Modric has given Spurs their value years. He's been the best player on a team that's gotten Tottenham a Champions League payday. The team's consistently in the top third of the league, playing in Europe, competing for Champions League slots. Combine that with the money they'll get by selling him (say, £32 million if they come off their £40 million evaluation), and they've gotten justifable value out of him. Modric has done good by Tottenham.
And Modric has to know this. His agent's undoubtedly told him. That, combined with Real Madrid's interest and Levy's 2011 promise, has to make this situation seem absurd to him. What more do I have to do to get the same options every other player has at their disposal?
But Modric shouldn't be surprised. Nor should the next player who thinks Tottenham is the typical next step in their career. Modric saw it happen to Keane. He saw it happen to Berbatov. Levy is going to be cold hearted about any deal. He's going to be a good chairman and use every bit of leverage he has.
If Modric really wants to leave Spurs, he has to regain leverage in this fight. That's why he needs to leave Spurs' camp, again. There's little else he has at his disposal. Last year, he tried to play through his transfer saga – to be the good guy, even if it was affecting his play – and that didn't get him to Stamford Bridge. This year, he needs to give Levy some incentive to reassess the situation.
Whether he believes it or not, he needs to make it clear that his relationship with the club is past a point of no return. Levy can try to hold on to him with the hope all will be fine when the transfer window closes, but Modric needs to put the idea in his head: Things may not be fine if a deal's not done.
(MORE: Modric returns to Tottenham training.)
Most people will look at this tactic as despicable. Modric signed a deal, and he should stick to it. That's the general feeling, but just as Levy will use every bit of leverage he has to do what's best for Spurs, Modric and his agent should employ every tool at their disposal to do what's best for them. In terms of business morality, Modric refusing to report to Spurs is no different than Levy breaking his promise. Both decisions are motivated by the same goal.
But the whole situation is absurd. If you wonder why more chairmen don't act like Daniel Levy, it's because of this scenario. Spurs' chairman is pushing the situation to the point that he's risking destroying the relationship his club has with Modric and (more important, to Levy) losing leverage, thus deflating the players' value. If Modric refuses to play for Spurs, Real Madrid's incentive to pay top dollar goes down. In that way, Levy is playing chicken with himself as much as he's facing down Modric.
Modric needs to go to Levy, explain that he doesn't intend to report to the team past a certain date, and give the club time to work out a deal. After that point, Modric should not only decline to show up for training, he should be more than willing to sit down with the BBC, Sky, ITV – even talkSport – and explain what's happened. Maybe he can even get Harry Redknapp to sit by his side.
Regardless, Modric needs to create leverage. He doesn't have many options.