Soccer birthdays: We're still not certain where Robin Van Persie will play his soccer this year. We're not sure if he'll be a Gunner or he'll aim those scoring shoes elsewhere. But … we do know that the man turns 29 today.
Big Important Story of the Day: Women's Olympic soccer is down to the semifinals. Of highest interest here, of course, is the U.S.-Canada contest from Old Trafford, home to Manchester United. The 2:45 p.m. ET match can be seen on the NBC Sports Network, NBC Olympic Soccer Channel and streamed on NBC Live Extra.
Japan and France meet in Monday's other semifinal.
Another story to watch today: Perhaps we'll learn a little more about Sunday's terrible news, that rookie Kirk Urso had been found dead late Saturday night.
RASNoD (Random American Soccer Name of the Day): Bob Gansler
*Ahead on the blog today: MLS Player of the Week and Team of the Week, the Monday "Meh" list of the slightly overrated, plus analysis later this afternoon's Olympic semifinal.
Twitter daps: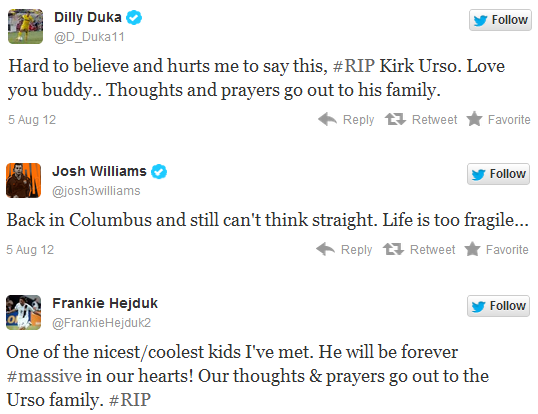 What you should watch on TV:
2:45 p.m. ET is kickoff for U.S.-Canada on the NBC Sports Network, the NBC Olympic Soccer Channel of available for streaming on NBC Live Extra.
PST background noise while blogging today: Olympics. Warming up for Olympic soccer with … Olympic Everything Else.
We'll leave you with this: The Columbus Crew, still fighting for a playoff spot, host Toronto on Saturday — and I just don't know how they'll be in any frame of mind to play a soccer match.
*Always subject to change; you know how it is…