Soccer birthday: Aston Villa manager Paul Lambert turns 43 today. So if you happen to bump into the man while he's out getting his morning tea or something, wish him a happy one and all. Oh, and ask if he's going to give U.S. man Brad Guzan a little more playing time this year the Villa Park goal, while you're at it.
Big Important Story of the Day: Somehow, I don't suppose we've heard the last about the Norwegian referee who decided that right at that moment, right on the business end of a sensation Olympic Women's Soccer semifinal, was the perfect time to begin enforcing a law that is so universally ignored that it's barely a law at all.
The men's Olympic semifinals play out today. (And let's hope they can get close to being as wonderfully dramatic as the women's matches were on Monday.) One is our southern neighbor, Mexico, which meets Japan for a place in the gold medal match.
RASNoD (Random American Soccer Name of the Day): Bob Gansler
*Ahead on the blog today: MLS Weekly Rankings will roll out around 1 p.m. ET.  And we'll start looking ahead to Wednesday's U.S. Open Cup final from Kansas City (Sporting KC vs. Seattle.)
Twitter daps: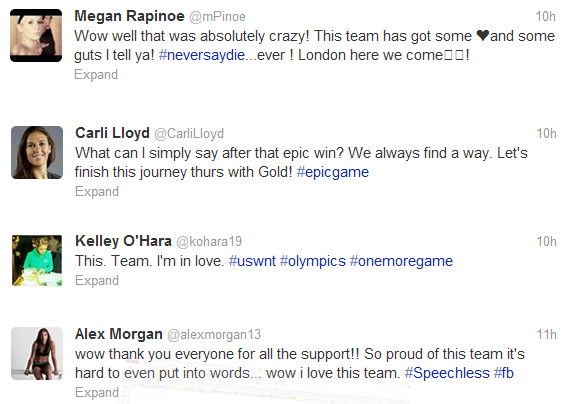 What you should watch on TV:
Olympic Men Semifinal: Japan vs. Mexico, noon ET, NBC Sports Network.
Olympic Men Semifinal:  Brazil-South Korea, 2:45 pm ET, NBC Sports Network.
(Both games also on Telemundo)
About the picture (above, right): Even Megan Rapinoe herself says she cannot be held responsible for the nuclear-tipped starbursts of emotion upon scoring a goal.
*Always subject to change; you know how it is…