A few media colleagues have donned their oven mitts this morning, now baking up a fresh round of lesser informed excuse-making about the Norwegian referee's decision yesterday during the Miracle in Manchester.
The theory goes, the referee's assistant at the Canadian end "warned" goalkeeper Erin McLeod not to slow down the action.  So, this thin line of thought goes, the decision to punish McLeod was wholly justified.
A lot of this is coming from our friends who may not watch soccer as much – and some of them are making apples-to-orange comparisons.
(For the record, I hate that all this detracts from a rousing, brave U.S. win. It really was quite something … which is why we are writing all this other stuff about it.)
If you are relatively unfamiliar to soccer, I promise I'm not judging. My role here is simply to inform, to keep the conversation within the chalk lines of relevancy. Because some of what I'm hearing simply isn't. Relevant, that is.
To wit: About this warning of "not slowing down the play," I say "So what?"
It is absolutely immaterial in the context of such a meaningful decision from the woman in the middle, at such a critical time in the contest.  Referee assistants and referees are always providing information and communicating in formal and less formal ways.  So, there's that.
But the more important issue here is the context and timing of this massive free kick award. (A decision that, as I've already tried to make clear, is never issued.)
So, let me be crystal clear about this:
Only the most egregious, blatant violation of the perennially-ignored six-second rule, one that demonstrated a nakedly overt effort to defy and show up match officials, deserved such harsh treatment.
McLeod's actions didn't even approach such a standard.
Warning? Only if referee Christiana Pedersen had pulled McLeod aside and said the following words would a "warning" be considered as such in this case: "Look, you are clearly stalling. You will leave me no choice but to award a free kick if you hold onto the ball for more than six – SIX, you hear? – seconds. Am I being clear?"
Even in that case, I might argue that McLeod got to her feet and released the ball in acceptable time.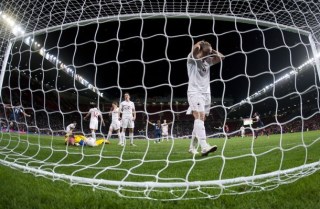 By the way, most goalkeepers would hear such a "warning" as McLeod apparently received and reasonably conclude she was being instructed not to dally on goal kicks. (Which McLeod didn't appear to be doing.)
Want a fair comparison? This would be like a bunch of people heading out of town in a panic over Hurricane warnings. On the way out, police warn drivers almost in passing to "watch your speed." And then someone gets tagged for going 71 in a 70 – and then gets their vehicle towed because of unpaid parking tickets from back in college.
By letter of the law, yeah, that's justifiably enforcement. But I think we'd all agree it was pretty silly and utterly unnecessary.