Usain Bolt wants to play for Manchester United. He's dead serious, he insists. Once the Olympics are over, he wants the chance to break into one of the world's three biggest clubs, and a key member of that team is set to help. Being the world's fastest man has its privileges.
Bolt, fresh off an Olympic record 9.68 100 meters dash, started the ball rolling, adding some soccer bonafides to his more prominent talent while making his case to play for Manchester United:
"I would not take up the challenge if I didn't think I was good enough. I am a very accomplished player and know I could make a difference.

"I would be the fastest player in the team – but I can play as well. I am in Britain for a few more days. If Alex Ferguson wants to give me a call he knows where I am."
It seemed little more than a baited hook cast into a barren pond. Then, a big fish bit. Rio Ferdinand did what he does second-best (tweet) and got in touch with Bolt, offering his help:
United's Rio Ferdinand tweeted Bolt: "If you want that trial at Man Utd shout me, I'll speak to the boss!! Well done in 100m."
Tweet is no longer available.
Bolt's response (thankfully, still available)?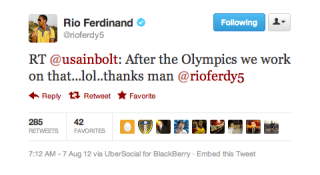 On BBC radio, Bolt claimed the plan is moving forward. "Rio's going to set the meeting up and I'm going to talk to [Sir Alex]," he told BBC 5 Live.
Could this actually work? Soccer is one of the world's simplest game (in terms of its mechanics), but it's also one that requires one of the greatest levels of specialization. Usain Bolt makes his living with his feet, but not like this.
This isn't Renaldo Nehemiah going from dominating the Olympic hurdles to a contract with the San Francisco 49ers. Without some legitimate soccer skills, Bolt would have to add too many facets to his athlete's repertoire to keep any decent goalkeeper from making him look silly. Or perhaps he envisions himself as a fullback with great recovery speed, only to be exploited in one-on-one situations.
You can make parallels between having to beat a cornerback, run a precise route, and catch a football while trying to avoid being blown up by a free safety, all of which may take more physical skill. But it doesn't mean it's easier to accomplish.
Unless Usain Bolt has some background in finance we're unaware of, he's unlikely to help Manchester United. Not that it wouldn't be fun to see him try.