Soccer birthdays: It's the hair, right? When we think of Marcelo Balboa, what do we think about first? Not the bicycle kick that was oh-so-close to being the goal of the 1994 World Cup, right? Not the fact that he and Alexi Lalas established themselves as a downright nasty and effective center back combo during that World Cup. Not that he took that World Cup performance and rolled it into a healthy MLS career, or that he parlayed it all into some heavy broadcasting work from there. It's the hair!
So, happy 45th birthday to Marcelo Balboa. And to his hair, too!
Louis Saha, who had a couple of amazing seasons at Fulham and has pretty much been living off that for the last 10 years, turns 34.
Big Important Story of the Day: Real soccer fans in this country love them some Lamar Hunt  U.S. Open Cup. I get it. I understand that 9/10th of all good Americans wouldn't know the U.S. Open Cup from a cup of canned spring water tuna, but who cares? The U.S. Open Cup remains our little darling, that little indie band that no one knows about – but that we adore.
Seattle and Sporting Kansas City decide the 2012 Open Cup inside Livestrong Sporting Park tonight. Wish. I. Were. There.
RASNoD (Random American Soccer Name of the Day): Eric Denton (starter on Columbus Crew team that won the U.S. Open Cup 10 years ago, defeating Los Angeles in the final.
*Ahead on the blog today: MLS Weekly Rankings (that we didn't get to yesterday, sorry). Plus, lots of U.S. Open Cup and whatever else spills out of the big brains of Noah Davis, Richard Farley and Jenna Pel.
Twitter daps: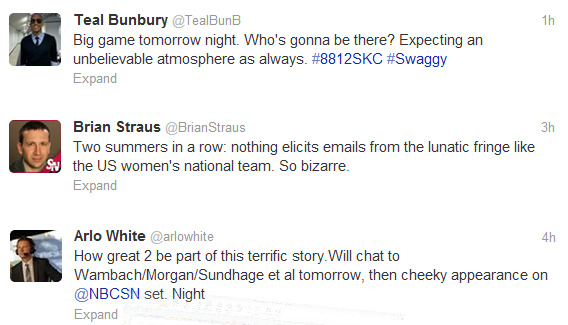 What you should watch on TV:
U.S. Open Cup final: Seattle at Sporting Kansas City, 9 p.m. ET, GolTV  (So, go get you some GolTV if you don't have it.)
PST background noise while blogging today: Something on the chill and relaxing side. Maybe some smooth downtempo – because we're all still a little heart-poundy over that whole Olympic women's semifinal. That mess was intense!
*Always subject to change; you know how it is…