About the picture (right): Well, lookey who U.S. women's soccer players Tobin Heath and Amy Rodriguez found while moving about London. Maybe some of the gold medal magic dust fell off the man's tall frame and onto the women who will play for their own gold today.
Soccer birthdays: You want longevity? Filippo Inzaghi can show us all a thing or two about longevity, about how to keep the party going. He was barely 18 when he started professionally in Italy in1991. A full 21 years later, just last May, Inzaghi walked off the field for the final time for AC Milan. The second all-time leading striker in European competition turns 39 today.
Elsewhere, former Manchester United, Arsenal and Inter Milan defender Mikaël Silvestre turns 35 today. He's still a high-level man, now with Werder Bremen in the Bundesliga.
Big Important Stories of the Day: The U.S. women get their shot at redemption, a final against Japan. It all happens today inside famed Wembley Stadium, where the soccer world will tune is to see the Olympic gold medal match.
Jenna Pel's preview is already up at ProSoccerTalk.
What a tussle last night's Lamar Hunt U.S. Open Cup final turned out to be — one delayed and further Super Sized in drama by some fairly tense weather . We'll talk a little about it here.
RASNoD (Random American Soccer Name of the Day): Michelle Akers
*Ahead on the blog today: Jenna Pel's good work looking back on the U.S.-Japan final, plus the Weekly Panic Quotient and a look back at the U.S. Open Cup final.
Twitter daps: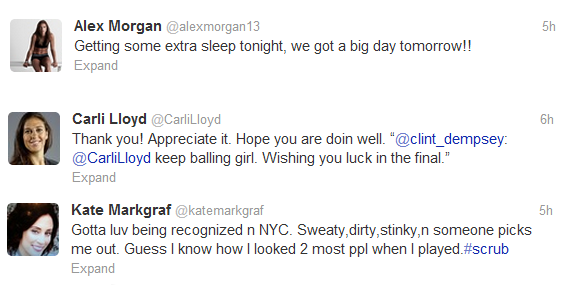 What you should watch on TV:
Pre-game coverage begins at 2:15 p.m. for the U.S.-Japan Women's gold medal contest. The match will be shown on NBC Sports Network.
PST background noise while blogging today: Podcast catch-up day. Planning to launch this effort with MLS ExtraTime and who knows where it might go from there?
*Always subject to change; you know how it is…