Is U.S. midfielder Carli Lloyd a big-game name now, or what?
Four years ago the U.S. midfielder supplied the money goal, lifting her country to Olympic soccer gold in a 1-0 win over powerful Brazil. Her strike then came six minutes into overtime.
So how does Lloyd (pictured) one-up the Olympic deal on Thursday? With two goals, naturally.
(MORE: Jenna Pel, our women's national team expert, will have her thoughts on the match soon … so check back.)
All credit to the woman for a flat-out, no-doubt, don't-even-think-about-arguing-the-point night of heroically getting it done.
But let's do point the compass of credit to a couple of others on Lloyd's game-winning goal. Smart runs from Alex Morgan and Abby Wambach created the space for Lloyd to exploit so beautifully.
Watch it here, then we'll talk more:
Japanese defenders hardly covered themselves in glory here, allowing far too much space for Lloyd, who has demonstrated her willingness and ability to shoot effectively from longer distances.
Early in the clip, watch as Morgan makes not just a smart run, but a committed one. Remember, this was the team's sixth match in 16 days, a taxing slog if ever there was one in soccer. It would have been easy for Morgan to dog it just a little here, to pace herself just a smidge and keep something in the tank for later, for herself.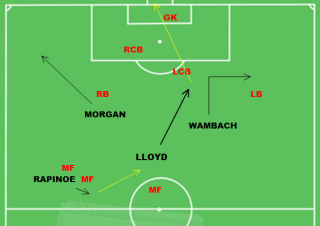 But she selflessly dashed out wide right, knowing the chances were slim that she would get ball, but surely dragging a defender with her and opening critical space for a teammate.  If Morgan remains inside, Japan's right center back doesn't have a tough, instant decision to make. She stays inside in that case, providing extra support in opposition of the ball carrier, which allows her fellow center back to more aggressively step toward Lloyd.
On the other side, Wambach's late choice to pull wide, rather than remaining inside and looking to work something in combination with Lloyd, created just a little hesitation for Japan's left center back.
Lloyd burst into the space – and there came the gold-winning goal.
We should probably two other elements of the goal:
First was Megan Rapinoe's aggressive pass that found Lloyd. Under pressure from two Japanese midfielders, too many players may have played something a little safer – which would have meant forfeiting the initiative on the counter attack. Rapinoe found the right ball and permitted her team to seize the initiative.
Second, let's tip our hat to Pia Sundhage's bold tactical choice of changing the lineup, starting Shannon Boxx, who was returning from injury.  Boxx's ability to reliably possess the ball and her natural defensive tendencies probably gave Lloyd just that last little bit of confidence to keep surging forward in the contest, to keep pressing herself further into advanced spaces, comfy in the knowledge that a steady-eddy holding midfield force was sitting dependably behind her.