Any long, tall and refreshing drink of women's soccer success in the United States gets chased with a splash of cliché queries. Two questions are as inevitable as a goal kick after a well-wide shot:
What will this volley of success do for women's soccer here?
Will it facilitate the development of a women's professional league here?
On the first issue, I'll get to the bottom line fast:
It won't do much. And I mean that in a very positive way for women's soccer.
I feel strongly about this: We are past the point where these glorious moments for U.S. women's soccer are true game-changers. They are moments to be celebrated, of course. But they aren't moments that will significantly elevate the profile of women's soccer here. They'll nudge it forward a little more, but we are past the time of momentous breakthroughs – and that's all a testament to how far the game has come.
Think of it like this: once you've tasted ice cream, you know you love ice cream! You might renew your vows, re-asserting your adoration of Chunky Monkey or whatever, but you can only have that moment once.
By definition, we can only "break through" so many times. The original breakthrough domestic women's soccer moment, of course, was The Girls of Summer swim through the Women's World Cup in 1999. Mia Hamm, Brandi Chastain, Michelle Akers, Carla Overbeck and the rest ensconced themselves splendidly as the nation's sporting darlings. They hit all the right notes in the greater sports continuum, raising the profile of soccer and women's athletics all at once.
It helped, of course, that the 1999 WWC was here, arranging the stage just so for maximum, heroic exposure.
From there, subsequent tournament success created moments to remember, whether it was about claiming Olympic gold or those stirring comebacks along the way in the Women's World Cup chase. (Abby Wambach at the far post in the dying seconds against Brazil? Yeah, I've YouTubed that one a few times since, getting all goose bumpy every time at Ian Darke's amazing call.)
So each new launch of summer soccer awareness surely moved the sport forward. Olympic gold in Beijing? Long, slow applause for you ladies! Well done.
Big, brave stab at glory in Germany at last year's Women's World Cup, undone only by a team of destiny from Japan? We held the U.S. players in highest regard, feting and lauding them no less for falling one match short.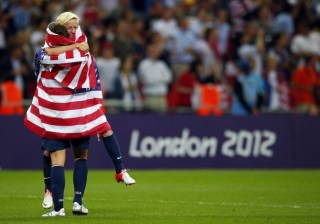 This time around, Pia Sundhage's ladies were perfect in a 6-0-0 dash for gold medal glory in and around London. Three golds in a row? Are you kidding me? Truly a historic achievement.
But did those moments change the game? Not much. They've arrived already. Again, how many grand entrances can you make?
Everyone does realize that a 12-year-old who watched in wide-eyed wonder in 1999 is now 25 years old, with a career and possibly kids of their own, right? We know what women's soccer is in our land – and it is grand!
What 2012 gold does mean: This new generation of talent has climbed steadily from the shadow of the 99ers (Hamm, Chastain, Julie Foudy, Kristine Lilly, Brianna Scurry, etc.) Alex Morgan will be the new Mia Hamm. She's bound for Hall of Fame levels of marketing exposure.
Hope Solo's athletic, skillful moments will allow her to dodge most public scrutiny from her Mean Girls moment, those unnecessary and distracting Twitter rants.
Abby Wambach's legend grows taller and Megan Rapinoe begins to take her place among the giants of U.S. women's soccer. Carli Lloyd's drive and Tobin Heath's technical grace isn't lost on anyone paying attention.
We should talk about these championships on their own merit, for the accomplishment at team and individual level. What does it mean for women's soccer?
Let me answer a question with a question: What will a gold medal in men's basketball mean for men's basketball in this country?
I doubt anybody is asking that, because it's a goofy and irrelevant question. Well, same deal.
Soccer in the United States, and women's soccer in particular, is past that.
(As for what the latest events mean for the potential development of a women's pro league, we'll visit about that one tomorrow.)