Bidding adieu to a living legend of the women's game.
At the age of 15, Homare Sawa scored four goals in her debut appearance for Japan. The crafty central midfielder would continue to make good on that early promise for nearly two decades.
Sawa today announced her retirement from the international game. She won't merely be remembered for her footballing accomplishments, and it's a mightily impressive CV: World Cup triumph; Golden Ball; Golden Boot; 2011 FIFA Player of the Year award; Olympic silver medal.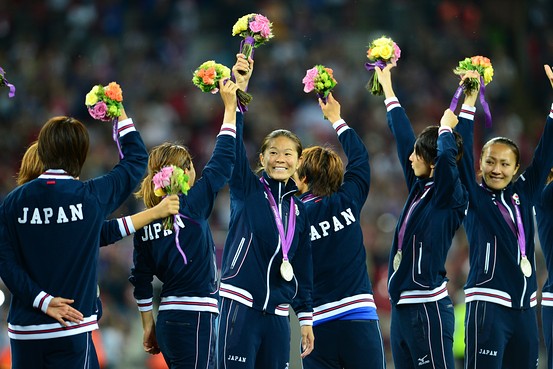 The 33-year-old made an indelible impact on the women's game. Her inspired play helped elevate the standard of women's soccer both in terms of quality and global prestige.
U.S. fans were first introduced to the Japanese no. 10 during her three-year stint with Atlanta Beat in the Women's United Soccer Association. The sleek and composed no. 10 would return to the U.S. in 2009 as a member of the Washington Freedom in Women's Professional Soccer. She would remain a fan favorite.
Sawa cemented her legacy with her exploits in Germany last summer. Her crowning moment arrived in her final turn on the world's grandest stage. Even at 32, her game showed no signs of decline or regression. Exactly the opposite, in fact.
It's impossible to imagine Japan's stunning Word Cup run without her immense influence. Sawa performed dual roles for her side, and did so brilliantly. She was both the conductor and the principal performer. She was the brains in Japan's inventive midfield and provided the firepower with five goals. It was her late header in the final against the U.S. that forced overtime and put the World Cup within Japan's grasp.
That inspirational performance made her an icon back home. The Nadeshiko lifted the spirits of a nation stricken by natural disaster. Sawa became the face of Japan's new national heroes – quite literally.
A firsthand account from an American based in Japan:
Heck, I live in a very rural backwater (think the Japanese equivalent of North Dakota), and the annual festival's float was hastily redesigned to be a 10-foot-tall representation of a dragon wearing Sawa's uniform.
In Kobe, Sawa's face was everywhere, and banners congratulating her and the team lined the main streets. Posters with Sawa talking about the importance of everything from a balanced diet to studying hard now grace all the elementary schools at which I teach.
Sawa took time in Friday's press conference to wish Japan's youth team luck in the upcoming U-20 World Cup. The Nadeshiko's next generation will aim to keep Japan amongst the world's elite. That position is one Sawa helped secure.
Time to reminisce. Sawa joins her teammates as they relive that momentous equalizer against the United States: