There's a lot of talk of closing the gap right now, the separation in quality between the United States and Mexico in larger soccer pursuits.
Statements Sunday from U.S. coach Jurgen Klinsmann worked as an accelerant, giving reporters some direction as we all looked for overarching significance of Mexico's ongoing success. Most recently, of course, it was the weekend's major Olympic triumph.
Said Klinsmann:
There is a gap. It would be foolish not to recognize that. If one team doesn't qualify for the Olympics and the other team wins the Olympics, there is a gap. On the senior level, they've done well over the last two years, too. You've got to give them compliments for that. In certain elements there is a gap, in other elements we can close gaps right away.

"If we just continue our path and work harder to close that gap, I think a lot is happening in the American system. There are a lot of positives happening in MLS and also our youth development in the MLS and the U.S. Soccer Development Academies. The next couple years will be exciting to follow what soccer in the U.S. can do, but at the moment Mexico is a step ahead of us."
By the way, if the young U.S. team gets clobbered Wednesday, the gap will become a "yawning gap" in the current narrative.
So, yes, there are miles to make up. But it's not like we're on foot here. The United States has a vehicle, too. A difference-maker here, a rising central defender there and things could suddenly look quite different.
(MORE: Long night ahead at Azteca? That center back position looks iffy)
Plus, there is one other way to look at this:
These things are cyclical. Simple as that.
Mexico slid some in quality through the last decade. Changes were made and we should credit the Mexican federation for adding emphasis to the youth programs. The rewards have come in championships, specifically the most recent FIFA under-17 world championship and now the (mostly) under-23 Olympic title.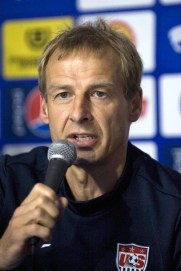 But let's not get carried away by attaching too much credit to Mexican programs, by pinning too much blame on faulty U.S. developmental systems and consequently ignoring the common vagaries of spinning wheels.
It all works together. And U.S. programs certainly need continued attention.
But even when matters are progressing apace, things can and do go wrong along the way. What happened at the Olympic qualifying tournament (where the United States crashed out embarrassingly early) provides the perfect example.
Meanwhile, more U.S. talent is migrating at ever younger ages into Europe – and that certainly says something.
Another Olympic cycle is around the corner; it wouldn't surprise me at all if the thing spins completely around by then.
I'm not saying the United States is going to won Olympic gold. I am saying that in four years (or two even), the United States could be seen as the border rival with better answers. It's just the cycle of things.