It has come to the point now where, when talking about "signature wins under Jurgen Klinsmann," you'll need to be pretty specific.
Previously, we would all have circled a 1-0 result in Italy. But Wednesday's 1-0 win in Mexico stands every bit as momentous. No, Mexico doesn't have the World Cup trophies or global chops of Italy, but El Tri is the predominant regional rival.
The United States had never, ever won in Mexico City – but has now. Don't underestimate the psychological impact of this one when Klinsmann and Co. inevitably return for World Cup qualifier fun.
Here are five talking points from Wednesday's history maker at Estadio Azteca:
Outstanding defense
Distribution out of the back was nothing special, but the defending was just this side of flawless.  Considering the alarming lack of experience in this one (and that two of the foursome were playing out of position) this was a remarkably focused and tight effort.
Geoff Cameron (pictured) was the best of the foursome, dominating everything that came his way. But Edgar Castillo – let's go with the "much-maligned" Edgar Castillo – was a wonder along the left side. He didn't do much on the attack, but that's not what this night was about for the outside backs. His one-on-one defending particularly stood out.
Fabian Johnson did what he needed on the right, and makeshift center back Maurice Edu channeled his inner Carlos Bocanegra and manned the right center back spot like someone who had been there for a decade.
Others with nights to be proud of: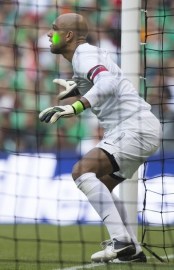 Start with Tim Howard, whose two remarkable second half saves – one of composure and physical balance, the other of world class reflexes – helped preserve the U.S. smash-and-grab. That man continues to be one that you absolutely, positively want on your side.
How about Kyle Beckerman? I cannot for the life of me figure out why so many fans have such a problem with this guy. The RSL man has figured out exactly what Klinsmann wants from that holding midfield spot and delivers it perfectly. He finds good defensive positions and keeps the ball moving. (As opposed to Jermaine Jones, who always needs two beats to find a pass rather than Beckerman's one.) It's a simple game; Beckerman sees it that way.
Some that needed better:
You have to think that Jose Torres is just about out of free passes under Klinsmann. The ever-candid U.S. coach said he needed more consistency from Torres, which is code for "get it right, or we move on."
Here's the thing: in a game where the United States will spend most of its time on defense, the guy is lost. He tries, but he's just not good at it, not the tracking, the tackling or interrupting of passing lanes. So then he's left to go find the game – except that he's not very good at that either, apparently. When the game is settled and balanced, with at least half the possession going the U.S. way, Torres serves a valuable function. Otherwise? Not so much.
Danny Williams was poor, but playing a nominal central role in a 4-3-1-2 was a big ask for the young man.
DaMarcus Beasley was better once switched to the right, but his entrance at halftime was wrought with tracking failures and inability to produce much with the ball.
Formation and tactics
A knock on Klinsmann has always been his alleged flagging tactical acumen; I've never been sure about that one. Personnel and program management are his forte, but I doubt he needs help sorting his wingbacks from his wide midfielders or whatever.
Either way, the U.S. coach sure nailed this one. The slightly more aggressive 4-3-1-2 wasn't working, so they wisely downshifted into a 4-4-2 with Landon Donovan and Torres interchanging between the left and withdrawn forward spot.
Recognizing that his team wasn't going to get much possession, the best chance of success was going to be through tight defending and good shape with the extra man in midfield, all while trying to steal a goal. Which is precisely what happened.
As for personnel, summoning Brek Shea for the 22-man roster proved a master stroke. He produced immediately, aggressively running at goal to create the scramble that Terrence Boyd helped along and Michael Orozco Fiscal put away.
(By the way, last year in Klinsmann's U.S. debut, a 1-1 draw with Mexico, it was Shea's aggressive dribbling along the left, just like Wednesday, that made the goal.)
Bottom line and overall assessment
The United States was generally awful in possession, but held up in defensive shape and demonstrated extraordinary belief. Everyone loves Tim Howard, and rightly so, and Geoff Cameron is progressing at international level at a pace that can only be labeled "exceptional." Remember, he was a national team curiosity at best coming into the January camp just a few short months ago.