About the photo: That's the hallway that leads to the U.S. locker room inside Azteca Stadium. Just in case they forget for a second where they are. (Thanks to U.S. Soccer for the shot.)
Soccer birthday: How great would it be if we could all watch Arsenal and England international Alex Oxlade-Chamberlain in the Three Lions shirt smack dab on his 19th birthday? Well, we were this close. Turns out, the crazy-fast attacker was just ruled out the England squad for Wednesday's friendly against Italy in Switzerland; he injured an ankle during a recent Arsenal match against Cologne.
Not to worry. He'll be in the England shirt again. You saw the part where we said he was turning 19, right. The kid's got plenty of time.
Big Important Story of the Day: It's a FIFA international date. So strap in, turn on and get ready to rock the global game. The biggie in our part of the world is in Mexico City, where the United States will send a bunch of young men into the breach. That's the biggie  if you live here, but since lots of our friends from Canada read this blog (the numbers don't lie), the biggie du jour is in Florida, oddly. There, Canada meets Trinidad and Tobago.
RASNoD (Random American Soccer Name of the Day): Mike Lapper
*Ahead on the blog today: Hope Solo is stirring up more trouble. I don't suppose anybody is really surprised by that, right? Also, the Panic Quotient makes an afternoon appearance.
And we'll have plenty on the big friendly down in Mexico, before and after Jurgen Klinsmann's young men clash with El Tri at Estadio Azteca.
Twitter daps: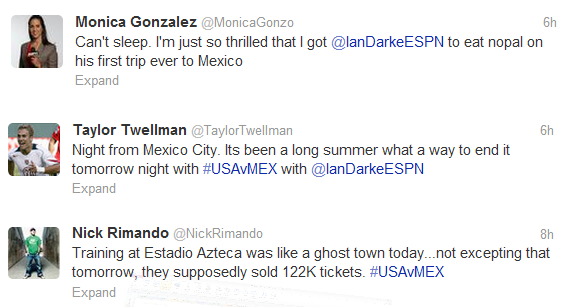 What you should watch on TV: If you have ESPN3, the world is your soccer oyster. Friendlies available include:
Germany Argentina at 2:30 pm ET
France-Uruguay at 2:45 p.m.
Belgium-Netherlands at 2:45 p.m.
Scotland-Australia at 3 p.m.
Spain-Puerto Rico at 4:30 p.m.
Mexico-United States at 7:30 p.m.
Otherwise, on ESPN2
Germany-Argentina at 2:30 p.m.
Mexico-United States, 7:30 p.m.
Spanish-language Univision also has the Mexico-U.S. match.
A more complete listing is here.
PST background noise while blogging today: Soccer. Internationals. All day. It's the only thing that could get me away from DVRed Shark Week.
*Always subject to change; you know how it is…