There is plenty at stake for both teams as San Jose visits Montreal in one of six MLS matches Saturday. San Jose would like to hold (or stretch, if possible) its Supporters Shield lead, for one.
For the home side, by stringing together a bunch of positive July and August results, Montreal has climbed to within three points of a playoff spot. There's heavy traffic ahead because the teams within fetching distance all have games in hand on the Impact. Still, there's reason for denizens of cozy Stade Saputo to be excited over it all.
With increased focus on the playoff races, we haven't heard much lately about the Golden Boot chase. Besides, we all assumed a few weeks ago that it was Chris Wondolowski's; everyone else was aiming for second, it seemed.
But "Wondo" has been stuck on 17 goals for a month now, held without a goal in San Jose's last four matches. Others are creeping up: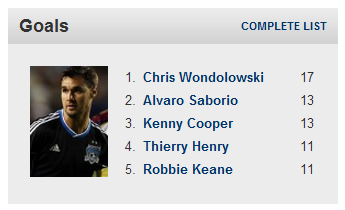 So, is the Earthquakes goal-getter worried about any of this? Not a bit, he told me last week during an interview for Soccer Today (a radio show / podcast that I co-host). He's gone through this before, successfully chasing a scoring championship down the regular seasons' stretch.
What Wondolowski hasn't experienced much is playoff success during four years in San Jose. And that's where he's putting the emphasis now:
We have 10 games left and that's still a good chunk of the season. So I'm still thinking about trying to get wins and playing as well as possible. The great thing about playing on this team, when we do play well, we create a lot of opportunities. I know when we create opportunities, I usually will find myself on the end of a couple of them. Then I know it's on me to finish them. I know that I'm capable of doing that, so I just need to keep working on it."