(MORE: Part 1, with Nos. 11-19 in the rankings, is here)
10. Montréal Impact – The Impact has won five in a row and keeps closing the distance between their expansion selves and D.C. United. They have played more games than other teams in the East, so the margin for error is thin as sandwich-cut Canadian bacon. Still, every in-season signing is proving to be a handy one, and there's a lot of reason to be excited about the late-summer stretch around Stade Saputo.
9. Real Salt Lake – The schedule has granted a tiny reprieve for RSL with a full week between matches. Whew! That makes this Friday's contest at home with D.C. United (which is dealing with its own taxing stack-up of matches) an absolute, positively "gotta have" for Jason Kreis and Co. The men of Rio Tinto have collected just 1 of a possible 12 points in MLS matches since late July. That will not get it done going forward.
8. Columbus Crew – There can be no doubt that Jairo Arrieta and Federico Higuain can be difference-makers in MLS. So now it's about finding the best role for dependable veteran Eddie Gaven, getting the rest of the midfield mix just right and squeezing a little more production from dynamic wide man Dilly Duka. And, they've got points to make up in the standings – but these are surely exciting times around Crew Stadium. (Oh, goalkeeper Andy Gruenebaum looks OK after last week's injury scare. So, good news there, too.)
7. Chicago Fire – The off-week saw Chicago hold its place at fourth in the East while the teams on either side failed to take full points. So, that part worked out pretty well. This week's visit by Houston? Yeah, check the box on "big match" for this one.
6. Houston Dynamo – The Dynamo can't be beaten at home – but these draws lately rather than wins are doing some damage. A week ago it was Columbus holding Houston to a tie. In Round 25, Toronto scored late to split the points out of BBVA Compass Stadium. To be an elite team in MLS, teams cannot be losing late leads at home against the bottom club from the East. (No offense, TFC.)
5. Angeles Galaxy – Minus Landon Donovan and on a lesser afternoon from David Beckham, the Galaxy professionally managed out a 2-0 win over previously hot Dallas. Juninho was big in this one, and Josh Saunders reminded everyone why the Galaxy has a more handsome record when he's in goal. Another busy week is ahead as Bruce Arena's men host Puerto Rico in a Champions League encounter and then look to put some distance on fifth-place Vancouver with a weekend contest at the Home Depot Center.
4. Seattle Sounders – Fredy Montero is on one of his runs. Watch him go! Eddie Johnson still has plenty to offer and Mauro Rosales (pictured above) has assumed leadership in MLS assists with 13. The defense and goalkeeping hasn't quite arrived into the same spiffy place, but everything else looks just so around CenturyLink Field. Christian Tiffert is fitting in nicely in the midfield, looking quite selfless about it all. That's positive, too. The Sounders are 5-1-2 in MLS since June.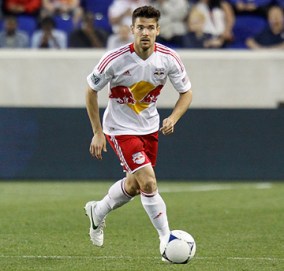 3. New York Red Bulls – Holy, Frenchman! Did the Red Bulls ever miss their veteran DP striker last week as Thierry Henry sat out while bringing a new, little Frenchman into the world. (Congrats, man!) On one hand, the Red Bulls offense was a complete, rudderless mess. On the other hand, credit for finding a way to grind out a 1-1 draw at Sporting Kansas City. The same teams meet twice more this year; those matches will say a lot about 2012 Eastern Conference supremacy. Heath Pearce  (pictured, right), by the way, has been quite a mid-season pickup.
2. Sporting Kansas City – There's a lot to fret over this week. Start with the 1-1 draw with New York, where Sporting KC dominated and pressured relentlessly, as always, but failed to stick enough past the Red Bulls defense to gather all three points. Teal Bunbury's season-ending injury is a huge downer, and Roger Espinoza's potential departure to Wigan would remove the team's best midfielder at present. Otherwise, all is well.
1. San Jose Earthquakes – How does it happen that San Jose cracks four and Chris Wondolowski doesn't get any of them? Same difference, I suppose, as the league leaders quickly got past last week's loss at Montreal by clobbering southbound Colorado. With a home and road set dead away against struggling Chivas USA and a match at Buck Shaw against the beleaguered Timbers, San Jose could easily have a commanding hold on the Supporters Shield title by mid-September. Only team at this point that might have something to say about it: Sporting Kansas City.