Has the West been won?
Technically, no. Of course not.
But good heavens, the San Jose Earthquakes do have quite the favorable schedule ahead. Set that bit of cushy-cushy alongside the seven-point gap that already exists, study it a little and … you have to love the odds that Western Conference supremacy will soon land at Buck Shaw Stadium.
First, take a look at the standings.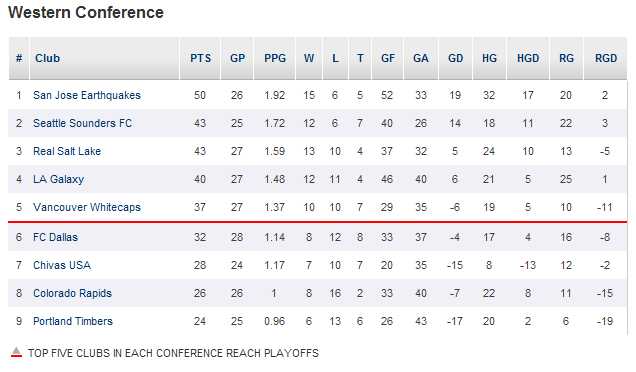 Seattle has the best chance of catching San Jose. Things are going well for Sigi Schmid's team, which is 5-1-2 in MLS matches since June. The Sounders have a good schedule ahead, too, and can certainly make things less than comfortable for San Jose, especially with a game in hand.
A lot of Seattle's ability to close the gap comes down to a Sept. 22 clash with the Earthquakes at CenturyLink Field. But look at the 'Quakes schedule in September and you'll see why San Jose should maintain safe distance ahead of that match, and perhaps even lengthen the lead.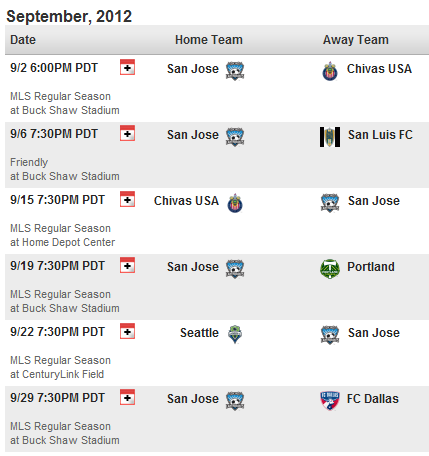 Two matches ahead involve Chivas USA, where the defense has fallen to pieces lately, and where the offense never showed up in 2012. And now there's potentially destabilizing front office and ownership turnover for the Goats.
Also in September, San Jose plays the first of two matches against hapless Portland, one at home and one away. Seattle has the same here-and-there set against Portland – but the rivalry aspect between the Cascadia Cup competitors makes these contests a more slippery street for Schmid's men.
Long story short, it's all there for San Jose. Real Salt Lake has a tougher schedule than the current Western leaders, and one fewer match ahead. Los Angeles is doing just fine, thank you very much – but that 10-point gap looks enormous as the calendar turns into September.
Of course, if the 'Quakes slip up this weekend against Chivas USA, meet us here at this time next week and the story might look very different.