Considering her age and current place on the charts, it's safe to say Abby Wambach is months, rather than years, away from moving past Mia Hamm into all-time U.S. goals leadership.
(Given the disparity in talent in the United States and Costa Rica, and the pounding the visitors were taking in Saturday's match in Rochester, you wondered for a while if she might just get there Saturday?)
Here is a look at the U.S. women's all-time scoring chart coming into Saturday's contest: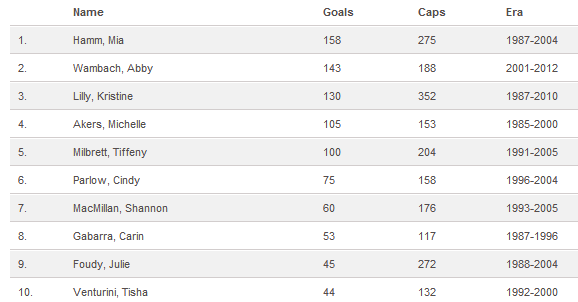 .
A couple of things to consider here:
Depending on the teams they bring, Australia and Germany should be stronger in subsequent post-Olympic tour matches than Costa Rica. Still, there's an opportunity for Wambach to nudge closer to Hamm by year's end. So, she could go into 2013 needing just 10 or fewer.
Wambach is 32, so there's no reason to believe she can't keep going. She will have just turned 35 as the 2015 Women's World Cup begins in Canada.
Christie Rampone just won an Olympic gold at 37, right?