About the random photo: Our friends from Kickette.com loved this one. It's Oguchi Onyewu, of course, showing off his new kit. And showing off what the clevers from Kickette call his "eight-pack."  Nice one, ladies! … But, hey! He's not just a sex object. He's not just a doggone piece of meat! Women can be so insensitive, can't they?
Soccer birthday: Real Madrid and Spain international midfielder Raúl Albiol turns 27 . That's the best we've got today. Not to worry, because Sept.  5 has traditionally been a stronger date for soccer births; that's what the Farmer's Almanac says, anyway.
Big Important Story of the Day: The bulk of the U.S. team arrived into Miami on Monday for two days of training prior to Wednesday's departure for Jamaica. Clint Dempsey is talking (finally!) about his dramatic Fulham departure and subsequent soft landing at Tottenham. And there's sure to be more coming out of Miami.
RASNoD (Random American Soccer Name of the Day): Steve Zungul
Twitter daps: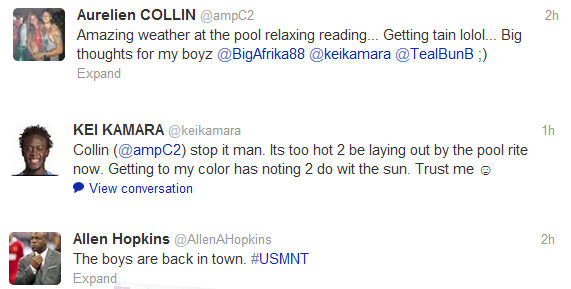 *Ahead on the blog today: Since yesterday was a holiday schedule, we'll catch up today with some of the Monday staples. There's some news on David Beckham to talk about. Plus, Tuesday always mean MLS weekly rankings, a.k.a. someone's next chance to tell me how wrong I am in all my MLS opinions. It's a party that way.
What you should watch on TV today: Slim pickin's for a few days due to the international break. But let's all make lemonade from these lemons: pay some extra attention to that special someone in your life. (Then, we you ask for "time off" for soccer, you are ahead in the game. It's all politics, man.)
If the MLS playoffs started today:
Eastern Conference
(Wildcard round)
(Second round)
Sporting Kansas City vs. Wildcard winner
New York Red Bulls vs. Chicago
Western Conference:
(Wildcard round)
Vancouver Whitecaps at L.A. Galaxy
(Second Round)
San Jose vs. Wildcard winner
Real Salt Lake vs. Seattle
PST background noise while blogging today: Kind of into Sarah Jaffe at the moment.
We'll leave you with this: No American broadcaster in the history over broadcasting has ever said Ligue 1 correctly. We just can't pull it off.
*Always subject to change; you know how it is…