Soccer birthdays:New England Revolution striker Ryan Guy turns 27 on Wednesday. C'mon, Jay Heaps, give the man a start on his B-day! (The Revs play Columbus tonight at Gillette Stadium outside of Boston.)
Dutch midfielder George Boateng turns 37. He had some good years in England. And he happens to be available. So, if your team needs a little something for the stretch, maybe you give the man a holler. (And then maybe you consider a little finder's fee for your ol' pals at ProSoccerTalk?)
Former Germany and Bayern Munich stalwart Paul Breitner turns 61.
Big Important Stories of the Day: The U.S. team leaves today for Kingston, Jamaica, where they have lots of draws but not a bunch of wins.
Also, Columbus is hotter than the grill at IN-N-OUT. They play New England tonight. If you haven't seen Federico Higuain, well, why the heck not? The Crew controls its playoff fate at this point. So, check back to see how they handled things with the Revs.
RASNoD (Random American Soccer Name of the Day): Kylie Bivens
Twitter daps: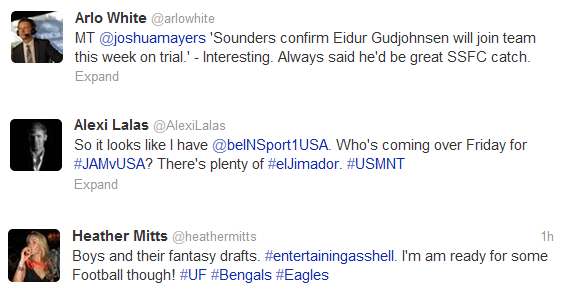 *Ahead on the blog today: We'll take a look at San Jose's big season of goals, goals, goals – and we'll look at where it fits in the bigger pictures. Richard Farley has the anchor leg today. Smart dude. Keeps a cool head in a crisis. I'm sure he'll have interesting things to tell you about MLS happenings and anything that breaks out of the U.S. camp. Probably something out of Europe, too. He's cool that way.
If the MLS playoffs started today:
Eastern Conference
(Wildcard round)
(Second round)
Sporting Kansas City vs. Wildcard winner
New York Red Bulls vs. Chicago
Western Conference:
(Wildcard round)
Vancouver Whitecaps at L.A. Galaxy
(Second Round)
San Jose vs. Wildcard winner
Real Salt Lake vs. Seattle
What you should watch on TV today: Colorado hosts Portland on the NBC Sports Network; kickoff is 9 p.m. ET
*Always subject to change; you know how it is…