The Earthquakes just hit their 56th goal of 2012, nailing down a club record with a full seven games remaining. So, check the box on "Just plain getting it done."
There can be no argument that the Western Conference leading Earthquakes are getting plenty right this year at Buck Shaw.  Still, we always need context, especially in this case. Because this year's 34-game schedule clearly arranges a different numerical stage than past seasons that landed at 28, 30 or 32 games.
The only fair comparison is in working the averages.
With 56 goals in 27 matches, Frank Yallop's collection of goal makers and heart breakers are scoring at a clip of 2.07 per game.
That would be sixth best yet in MLS. Not bad, eh? Here's the current list of the 10 highest scoring clubs over 17 seasons. (Apologies for the ghastly graphics; I've got my best people on it.)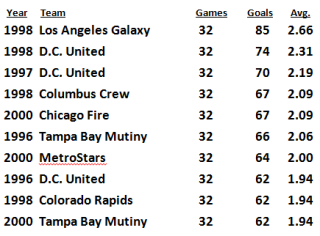 Even that deserves context, because those early MLS years were skewed by relative disparity. Los Angeles and D.C. United were bell cows; the salary rules, such that they were, were applied unevenly in those days. (Same with the MetroStars, so their inability to make more noise those first few years speaks to serious organization instability.)
Yallop has something special going on at Buck Shaw this year. They are not going to flirt with that '98 Galaxy all-time best. (That team had Cobi Jones and Mauricio Cienfuegos at their best.) Still, with a fairly favorable schedule ahead, the 'Quakes have a chance to land somewhere right in the middle of this list of historical over-achievers.