I spent most of Sunday morning starting at chalkboards at MLSSoccer.com, obsessed with one idea: "That pass Maurice Edu played (to Herculez Gomez) in the first minute. Why didn't they try that more often?"
That's easier said than done, though the concept is pretty straight forward. The team saw something that worked right off the bat: Herc running; midfield hitting him; profit. Why didn't we see more of that?
That gets into a bigger, more subjective debate than I want to tackle here. For now, all I want to do is present some numbers to try and answer an implied question: Did we really see a lack of Edu-esque passes on Friday?
Starting with the premises that the first minute pass from Edu was a good thing, players try to perform that task, and teams would want to see more of that, I looked through the last four U.S. men's games (three World Cup qualifiers and game in Mexico). I wanted to see how often Jurgen Klinsmann's side is playing those types of passes, whether those numbers look high or low, and which players are playing the most passes of that type.
What are we looking for?
First, I need to define what type of passes I'm talking about. Check out how Edu's Friday ball looks on the Opta-fueled chalkboard: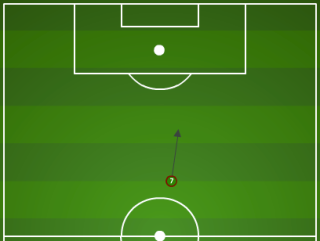 Fascinating. If there's a more boring way to represent that pass, I can't imagine it.
Regardless, there are four characteristics of this ball that I think are important:
It's a forward pass,
outside of the final third,
into the opposition's final third,
and within the width of the penalty area.
That's the criteria I'm using. How many times has the U.S. (and, to get context on each match, their opponents) completed passes that meet that criteria.
Disclaimer time: These Opta numbers can't be taken that as gospel, especially if you're not willing to re-watch a game and confirm them. In addition, the numbers without context are pretty useless.  A lot of these passes I'll be citing may have no significance, and there are surely some that were important which don't fit the criteria I've established.
So why even do this? Because if we get enough observations together, it does alleviate concerns that one or two deceptive passes can skew the whole endeavor. Plus, the Opta data and chalkboards gives us a way to establish some objective criteria (in this case, direction and location) that mitigates other subjective factors.
Opta has a number of different ways they characterize passes: Chip, dropped from hand, flick on, goal kick, headed ball, launch, and pass. Almost all of those can also be from a free kick. I'm focused on events from open play that are passes or short chips (trying to tease out crosses).
I'm also only looking at completed passes, even though tracking attempted passes might better capture a team's intent. There are a number of other factors that come into play when collecting a negative result (all surrounding whether it was appropriate to play the pass at all). I decided to exclude them.
Jamaica vs. the United States
On Friday, the U.S completed nine passes that met this criteria. Jamaica had 10. Jermaine Jones's four passes was tied with Jamaica's Jason Morrison for game high. Maurice Edu (two) was the only other U.S. player with more than one:

The numbers confirm that idea that Jamaica and the United States were on somewhat even footing. Jamaica never scored from open play, while the U.S. went 89 minutes without beating Dwayne Miler. But among the many things the number don't do is provide context. Are 10 and nine (or, on the individual level, four) large or small numbers? What should we have been expecting from the U.S.?
Recent matches (Antigua and Barbuda, Guatemala, Mexico, Jamaica)
Looking back at the matches the U.S. has played since World Cup qualifying began adds a little more to the picture:
It's impossible to draw conclusions from this table, but it looks like defending was as much a problem as attacking. Jamaica didn't score an open play goal, but both Beckerman and Edu's fouls came after Jamaica had established possession in the U.S.'s end.
Regardless, the U.S.'s entries into the final third seem in line with what you'd expect, based on these four games. Mexico's a superior side, while Antigua and Barbuda and Guatemala offered far less resistance. Jamaica proved slightly tougher than Guatemala, though perhaps we wouldn't have expected the final third passes to jump from three (at Guatemala) to 10 (again, insert relevance caveat here).
Individual numbers
This is like looking at stats in the first week of the baseball season: Fun, but not very informative. There are some things here that jive with our instincts, like the downgrade from Bradley to Beckerman It's also interesting to note where Edu and Jones sit on this list, particularly given 90 of Edu's minutes are in defense. While this sample is small, they have better rates than their potential replacements, Torres and Beckerman.
Back to the initial point, which was about the Jamaica game. Why didn't we see more passes like the one that put Gomez through? Looking across at the U.S.'s previous games, it's not clear we should have expected more.
Though perhaps the point. Whatever the numbers were on Friday, they weren't good enough. They led to the U.S.'s first loss in Jamaica. Perhaps looking at these and saying "they're when we would have expected" may be too close to saying "the U.S. should have expected to lose in Jamaica." For many people (including, probably, U.S. Soccer), that's not acceptable.