I know that beating up on Crew Stadium, easily the most plain Jane facility among 14 constructed expressly for MLS clubs, is something of a pastime for domestic soccer supporters.
It's an easy target. I get it.
But today is a great time to put Crew Stadium and its critical place in domestic soccer into proper perspective. Because one could easily make this case: Considering soccer's history here, it might just be the United States' most important professional soccer stadium.
It was the country's first major soccer stadium, the tip of the spear of what is, was and always will be the most critical early initiative in professional soccer's latter day growth here. Simply put, in terms of making MLS facility headway, nothing else happens without the lightly adorned Crew Stadium's development. None of it.
Not Home Depot Center. Not Red Bull Arena. Not PPL Park. Not Livestrong Park, etc.
Heck, probably no Seattle Sounders or Portland Timbers – those very organizations, that is.
Crew Stadium is Spartan, no doubt. It is essentially four sets of stands erected around a pitch, with some build-out in the concession areas and some bare-bones suites attached. Built on fair grounds leased from the Ohio Expositions Commission, the surrounding area is nothing to shout about.
That said, none of it matters a bit. This stadium was never about aesthetics or fancy-schmancy. And it wasn't about location; we were all still years from figuring out marketing models that made more sense with venues closer to urban cores.
This park was about symbolism and economic empowerment.  And about faith.
In fact, it was probably the demonstration of faithful conviction that makes Crew Stadium place so important. Specifically, it was a leap of faith from Lamar Hunt, who had taken them before in professional soccer and landed well short his mark, suffering the financial bruising to prove it.
But trustingly into the breach he went once more. The final Crew Stadium cost of $28.5 million will buy roughly one-sixth of a stadium today, give or take. But, you know, it's still $28.5 million. Who wants to toss that into the ol' yellow dumpster?
The Crew home ground went up in 1999 when MLS was still just a wobbly legged pony – and nobody was sure if that little guy would ever trot even one full lap around the track, much less zoom around it spectacularly at full, beautiful gallop.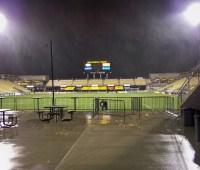 Only after the facility went up did everyone fully understand what it meant, the full promise economic sustainability that would never, ever, ever happen as renters. And only then did fans, officials and (probably later) media fully embrace the symbolic value of clubs having homes to call their own. Their house – in the middle of the (soccer) street!
I don't think anyone every put it better than Dwayne De Rosario, who said not too long back "People take you seriously when you get your own stadium."
There is also soccer history to talk about with Crew Stadium. We'll get to that later. It's the Lamar Hunt's trust in the game and his wonderful, enduring faith that we should spend a minute celebrating today and tomorrow ahead of Tuesday's huge World Cup qualifier.