Soccer birthdays:  It's a big day for the French. So grab a croissant, put on beret and spin some Edith Piaf vinyl as you celebrate Arsenal man Laurent Koscielny, who has never quite enshrined himself on the French national team, on his 27th birthday.
And save room for an aperitif to celebrate as  Jérémy Toulalan, whose best days came on some of those highly respected Lyon sides of the last decade, turns 29. Toulalan is now with Malaga in Spain.
Big Important Stories of the Day:Last practice day for the United States prior to Tuesday's back half of the Jamaican double. The same that met Friday in Kingston now gather in Columbus, Ohio. A United States tie would create some extremely nervous and dicey circumstances for the remaining two World Cup semifinal round qualifiers.
A loss at Crew Stadium? Katy bar the door! That would be a total, unequivocal disaster, pouring misery on top of pressure on top of blistering media and supporter excoriation. The United States could still make the World Cup at that point – but I would require two wins and possibly some help. Talk about cutting it close!
So, uh … go get 'em boys!
RASNoD (Random American Soccer Name of the Day): Esse Baharmast
Twitter daps: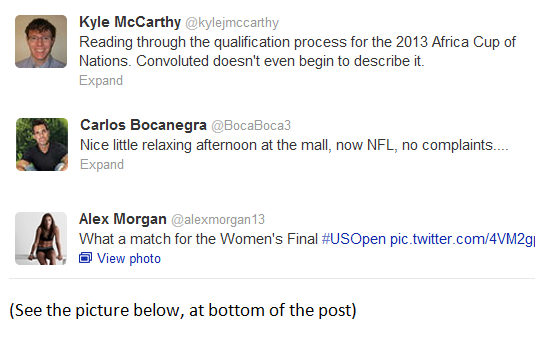 *Ahead on the blog today: How did everyone enjoy their latest WoSLS? That is, Weekend of Sadly Little Soccer?  Personally, I'll take a pass on many more like this one.
So, there will be no MLS Team of the Week or MLS Player of the Week – although we will have news from around the league. And, of course, we'll see what's happening with Jurgen Klinsmann's national team.
If the MLS playoffs started today (following 27 rounds):
Eastern Conference
(Wildcard round)
Columbus at Chicago
(Second round)
Sporting Kansas City vs. Wildcard winner
New York  Red Bulls vs. Houston
Western Conference:
(Wildcard round)
Vancouver Whitecaps at L.A. Galaxy
(Second Round)
San Jose vs. Wildcard winner
Real Salt Lake vs. Seattle
What you should watch on TV today:Brazil meets China in a friendly at 9 p.m. ET. GOL TV is your TV destination for that one.
*Always subject to change; you know how it is…
Twitter picture
The view from Alex Morgan's seat Sunday at the U.S. Open women's singles final. (Way to go, Alex! Nice seat – fit for an Olympic Gold Medalist.)