Soccer birthdays: Barcelona and French right back Eric Abidal, an inspirational figure for his ability to overcome health hardship, turns 33.
And Franz Beckenbauer, a man who might possibly have accomplished more in the global game than any human in the history of humans, turns 67. He was a World Cup winner as a player and then later as a coach, and then later was an organizer of the 2006 World Cup. You know, it's cool and all if someone says you are "The Man!"  Well, that man is "Der Kaiser!" And that's way better.
Big Important Stories of the Day:  A loss tonight in Columbus and the United States' bid for a seventh consecutive World Cup appearance is dangerously close to hitting the skids. It would all still be in U.S. hands – but you talk about a legion of U.S. Soccer supporters who would suddenly be fidgety as a man mainlining espresso.
But let's not go there. Not just yet.
The United States is favored tonight to prevail over Jamaica at Crew Stadium, a place that's been good to the U.S. World Cup qualifying effort before.
There are lots of other important stories today, depending on which other national team you might support. There are World Cup qualifiers all over the world.
RASNoD (Random American Soccer Name of the Day): Paul Caligiuri
Twitter daps: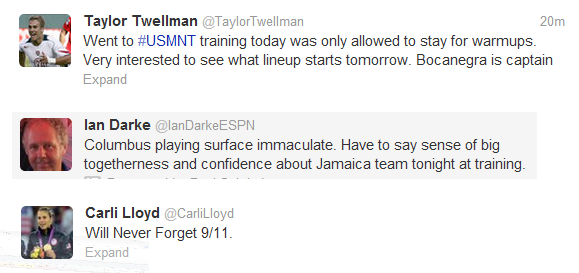 *Ahead on the blog today: A little more on Crew Stadium and its special place in U.S. Soccer history. Plus more on potential U.S. lineup choices ahead of tonight's Jamaican Jam in Ohio.
As Week 27 in MLS was such a light one, no new MLS rankings this week. Last week's will stand.
Instead, prep yourself for tonight's match (8 p.m. kickoff on ESPN2) and check back on the blog to help us sort it all out after the final whistle.
What you should watch on TV today:
You can find a bunch, darn near anything you want, but I'll circle three for you (all qualifiers for the 2014 World Cup):
England-Ukraine (3 p.m. ET) on Fox Soccer Channel
United States-Jamaica (8 p.m. ET) on ESPN2 and Galavision
Mexico-Costa Rica (9 p.m. ET) on Univision
PST background noise while blogging today: There is no background music today – just the sound of elevated heartbeats around the soccer nation. Thump-thump. Thump-thump.
We'll leave you with this: I don't like to make too many hokey connections between real-life events and soccer, but I won't apologize for feeling like a U.S. match on 9/11 has a special place in it all. I'm sure the players on the field will feel it, too.
*Always subject to change; you know how it is…