Soccer birthdays: English journeyman David Thompson, who had a few good years at Coventry City and then at Blackburn, turns 35. He is currently an assistant at Preston North End.
On a day after we had Franz Beckenbauer's birthday to talk about, David Thompson is pretty weak sauce, I understand.  What can I say?
Big Important Stories of the Day:  It wasn't perfect, but the table this morning shows the United States, Guatemala and Jamaica all tied atop Group A in semifinal round World Cup qualifying. We don't want to get too far ahead of ourselves here, but it looks like World Cup final round qualifying begins in late March of next year. I'm just saying …
Around the region, Mexico in on its way and Canada is still in the fight with two rounds of matches to play.
Also, the highly anticipated Hillsborough Report will be released today; it's the findings from an independent panel that investigated the 1989 disaster in England that took the lives of 96 Liverpool fans.
RASNoD (Random American Soccer Name of the Day): Cle Kooiman
Twitter daps: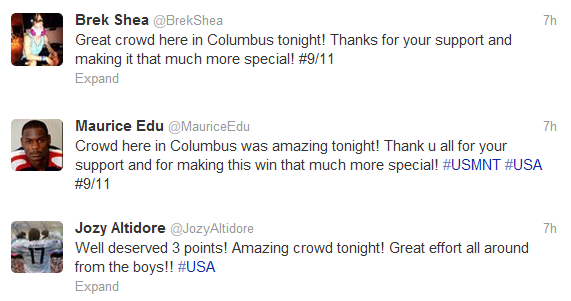 *Ahead on the blog today: More follow stories from last night's Columbus repair job. Plus, we'll look at some other winners and losers from the double-date of FIFA World Cup qualifiers around the world.
And we'll begin wading back into MLS matters as Round 28 gets under way with a match in Toronto.
And, of course, we'll have something on the Hillsborough tragedy findings.
What you should watch on TV today:
It's a harrowingly light day in pro soccer, travel time as all the international players get back to their clubs following Tuesday's World Cup action. So … women's college soccer, anyone?
Virginia meets NC State live tonight on Fox Soccer Channel (7 p.m. kickoff).
We'll leave you with this: No matter how many times we preach it, and no matter how many times we all get reminded of it, supporters tend to forget just how different home and away matches tend to look for their country in World Cup qualifying. We can talk all day about better individual nights, more inspired tactics, better personnel choices, etc. … but so very much of the difference between last night's commanding U.S. performance and Friday's deflated one comes down to this: playing at home creates a set of far more favorable conditions in which to operate.
*Always subject to change; you know how it is…