I love the burning desire that Paul Mariner brings. Every. Single. Day.
Some people grab their car keys and pack a lunch before they leave the house; the Toronto FC manager grabs his backpack, stuffs it spilling-over full of passion and "want-to" and would not think of leaving home without it.
But that's not all it takes to win. I respect Mariner and understand why he went off on his players after another loss last night – but I think he's wrong in this case.
It's about players. Repeat it and let it sink in: It's always about players.
Toronto doesn't have enough of them. Period. There's too much "average" and "not good enough."
The team was assembled poorly. Despite one of the highest payrolls in MLS, the roster was pieced together under two separate and mis-matched visions, the technically oriented ways of former manager Aron Winter and the spit-and-vinegar approach that Mariner fancies.
From Day 1 this year, the personnel choices just didn't work. Take away a couple of difference makers (goalkeeper Stefan Frei, striker Danny Koevermans and midfield MVP-type Torsten Frings, all injured) and this is what you have: a last-place team.
It's simple that way. And yet, here's what he had to say following last night's 2-1 loss to a Chicago team that's hammering all the right nails these days: "It's all about being a professional. We are at the bottom of the table. We haven't won in two months. And that is the type of performance that you give as a group? There is absolutely no excuse for that first half."
And Mariner was just getting started.
You can come up with all the excuses in the world – international call-ups and injuries to key players. But I was brought up in an environment where you were dying to get your opportunity to play at a great place like BMO Field or Old Trafford or Highbury. And when your chance came, you made sure that you stayed in the team and you made sure that the manager couldn't drop you. You can draw your own conclusion from what you saw tonight."

"When I came into this job, I said that I wanted to get some pride back into the shirt. We didn't have a full strength side by any stretch of the imagination, but this is your opportunity to go and show what you can do. And if that is the lads showing what they can do, then we are going to have a serious issue."
Again, I like and respect Mariner – but "desire" and opportunity factor isn't enough.
If I look at Mariner's starting lineup from last night, I see maybe four men who are solid, reliable MLS starters. And that's stretching it just a little.
Milos Kocic has been mostly OK as Frei's season-long replacement in goal. Eric Hassli can score, although it's hard to be sold on a guy Vancouver saw as flawed and dispensable. Darren O'Dea's early outings as center back at BMO have looked OK.
Luis Silva is a promising young playmaker – but surely not "there" yet. Between Silva and center back Richard Eckersley, I might count them as one solid MLS starter.
You look at last night's roster and tell me …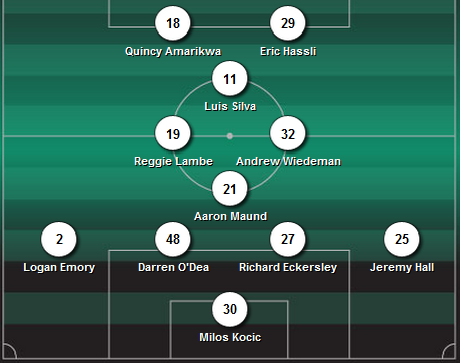 It's OK for Mariner to want more, to push players and ask more of them – especially at home, where the long-suffering fans of Ontario deserve better.  But beating on players and not accepting some of the blame is a dangerous game.  The roster isn't good enough. I don't exactly blame Mariner for not saying that; that would be demoralizing.
On the other hand, so is telling a bunch of guys who are stretched beyond their capacities that they aren't trying hard enough.