One check of the Spanish outlet AS's website (right) confirms the sadly predictable state of soccer coverage (at least in Spain).
It's been 12 days since Cristiano Ronaldo revealed his sadness in the wake of a two-goal, celebration-less performance against Granada, an declaration that sent soccer media around the world into a justified tizzy. With Ronaldo on international duty that confession, there's been little chance for the Real Madrid star to expound on his melancholy, yet 24 hours head of what's typically big match in Seville, AS's headlines are dominated by Ronaldo's desolateness:
Mourinho: If Cristiano's sad and plays like this, perfect
Cold meeting between Florentino and Cristiano
Florentina, to Cristiano: Are you happier, or no?
Michel and the case of Cristiano: In Madrid there were always egos
Cristiano and Madrid: What a great pair!
The question implied by the coverage is whether the relationship between star and club is falling apart, though a good measure of the club's view would be one of AS's competitors: Marca (below). The Spanish outlet always has a line into the club. If Real Madrid were tiring of a temperamental star, Marca's stories would likely portray a player who El Real could justify letting go. Instead, Marca's site has only two Ronaldo-related headlines: one announcing Ronaldo's in Seville and happy; the other a version of Mourinho's silver lining-view of Ronaldo's sadness.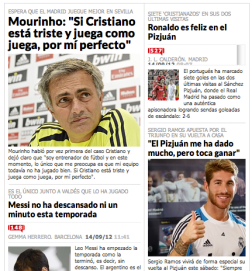 "Cristiano has given [the story] a fantastic two weeks," Mourinho talk reporters (as published in Marca), referring to the story's life during a news-less international break. "Now you need to give him what's needed, the peace and tranquility to play soccer, which is what does best and what he likes most … we should evaluate his performance on the field and nothing more."
It's not that this isn't a big story. It certainly is, but it's also one that hasn't changed in two weeks. Essentially, Spain's waking up each morning to some version of "Ronaldo's still sad." At some point, the press has to move on, though we'd be mistaken to underestimate the public's patience with Spanish media. A market that has put up with Messi versus Ronaldo for three years can probably tolerate a few more weeks of Ronaldo's recalcitrance.