Big Important Stories of the Day:  One day away from Champions League group stage matches. If you're not familiar, around here Champions League is also known as "Pretty much the best thing the history of the world." Yup.
So, there will be stories tumbling from points throughout Europe. None will be watched any more closely than a Manchester City (champions of England) visit to Madrid to face Jose Mourinho's champions of Spain.
It's the biggest, but certainly not the only match. Here's a great place to start your Champions League study for Match Day 1 of group play.
RASNoD (Random American Soccer Name of the Day): Joe-Max Moore
*Ahead on the blog today: Getting back into the normal Monday routine after a weekend set aside for international matches. That means MLS Player of the Week and MLS Team of the Week, in addition to the Monday "Meh" list, a recap of the weekend's overrated elements.
We'll also have some thoughts and highlights from Sunday's U.S. women's team win over Australia. (Coach Pia Sundhage has just one game remaining in charge.)
Twitter daps: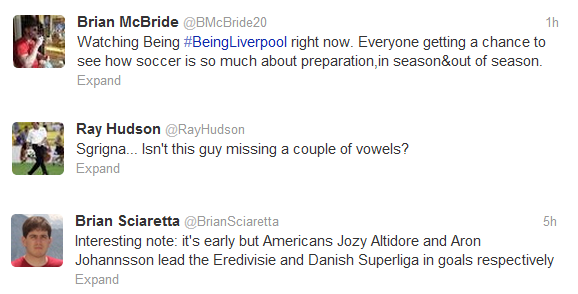 What you should watch on TV today:
Tim Howard and Everton host Newcastle at 2:55 p.m. ET today on ESPN2.
For those lucking enough to have beIN Sport, you get Valladolid vs. Real Betis from Spain's La Liga. That one kicks off at 3:25 p.m. ET.
(Bonus points if you can name the former U.S. international who had a pretty decent spell at Real Betis … and if the world were truly a just place, your prize for getting it right would be the ability to see beIN Sport.)
If the MLS playoffs started today (following 28 rounds):
Eastern Conference
(Wildcard round)
(Second round)
Sporting Kansas City vs. Wildcard winner
Chicago vs. New York Red Bulls
Western Conference:
(Wildcard round)
Real Salt Lake vs. Vancouver Whitecaps
(Second Round)
San Jose vs. Wildcard winner
Seattle vs. L.A. Galaxy
PST background noise while blogging today: Anything on the answer webs I can find where somebody is talking about Champions League. Open for suggestions.
We'll leave you with this: Liverpool isn't necessarily my team, but this Being Liverpool show is pretty compelling stuff. Think about giving it a chance … even if you are among the anti Anfield army.
*Always subject to change; you know how it is…