Soccer birthdays: Remember when we said "Ronaldo" and everyone assumed we meant the striker from Brazil?
The one-time scoring ace from South America, Ronaldo, turns 36 today. The guy once looked like he was destined to challenge Pele has one of the greatest of the greats. And in the end, he had a fine career – but you always felt he left something on the table, somehow.
And you just can't help but wonder if we ever got the 100 percent, full version of the curious events leading up to the 1998 World Cup final?
Also in birthdays: When I was a wee lad, I thought I wanted to be a goalkeeper, so I really loved watching a couple of the greats whenever that was possible.
Peter Shilton was one of those "greats." Dude was a rock, wherever he went: Leicester, Nottingham Forest, Southhampton, Derby County (a real parade of 70s and 80s stalwarts that began fading roughly around the day of new wave music.)  He had 125 caps for England by the time his long career was over.
Most of that is beside the point, which is this: Shilton turns 63 today.
Big Important Stories of the Day:  
What a joyous Tuesday this is
UEFA Champions League group stage matches begin today
This stellar day has landed with such a force around ProSoccerTalk headquarters that I find myself forgetting to punctuate
RASNoD (Random American Soccer Name of the Day): Brian Quinn
Twitter daps: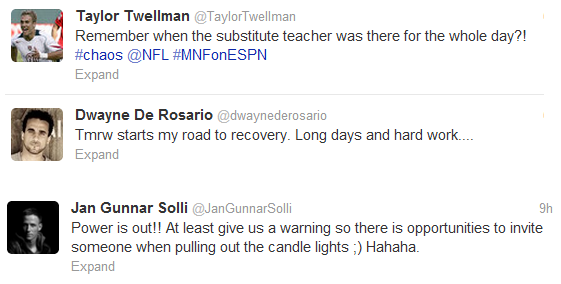 *Ahead on the blog today: By the time Manchester City kicks off at the historic Estadio Santiago Bernabéu against Real Madrid (the feature match among eight in UCL group play … or did we already mention that?), we will have dropped the MLS weekly rankings, some thoughts on newly signed Seattle Sounders goalkeeper Marcus Hahnemann, information on a new women's professional league and much more.
What you should watch on TV today:
Real Madrid Manchester City is on Fox Soccer Channel at 2 p.m. ET
Montpellier-Arsenal starts on FSC (on delay) at 5 p.m. ET
And then Tauro-Real Salt Lake kicks off (live) on FSC at 8 p.m. ET
Galavision has the other CONCACAF Champions League match, Real Estili-Tigres, which kicks off live at 10 p.m. ET
If the MLS playoffs started today (following 28 rounds):
Eastern Conference
(Wildcard round)
(Second round)
Sporting Kansas City vs. Wildcard winner
Chicago vs. New York Red Bulls
Western Conference:
(Wildcard round)
Real Salt Lake vs. Vancouver Whitecaps
(Second Round)
San Jose vs. Wildcard winner
Seattle vs. L.A. Galaxy
PST background noise while blogging today: Loop of the iconic Champions League anthem. (Extended dance mix, of course.)
We'll leave you with this: I'm just as excited as everyone else to see Man City at Real Madrid – but Borussia Dortmund vs. Ajax from the BVB Stadion in Dortmund? Yeah, that one is gonna rock, too. Group D really is a monster, isn't it?
*Always subject to change; you know how it is…