(Nos. 11-19 in the rankings countdown are here)
10. D.C. United – It took some heroic goalkeeping from Bill Hamid in the end, but United withstood its first test after Dwayne De Rosario's season-ending knee injury. Rising American star Chris Pontius did his part in the 2-1 win over New England. The schedule breakdown is tricky from here: On one hand three of the next four are on the road; on the other hand, none of the visits are to clubs that will make the playoffs.
(MORE: Bill Hamid, PST's Player of the Week)
9. Columbus Crew – Team officials say Federico Higuain will play in the Crew's midweek meeting in Ohio with Chivas USA. He had better; it's really now or never. If Robert Warzycha's men cannot pull all three points in a home match against the league's worst team, then they probably do not deserve to be a playoff side. Andy Gruenebaum's chances of playing looking promising, which would improve the Crew's chances of success.
8. Real Salt Lake – Tough call for coach Jason Kreis, whether to add emphasis in personnel decisions to positioning in the MLS playoff race, or whether to put more eggs into the CONCACAF Champions League basket? We'll know a little more tonight as RSL meets Panama's Tauro in regional tournament play. Kreis' team then hosts Portland four nights later.
7. Houston Dynamo – Perhaps a 1-1 draw at Sporting Kansas City helped stanch the downward flow, as Houston has slipped all the way to fourth in the East. Dominic Kinnear's team surely wants to make up the gap on New York or Chicago, hoping to avoid that fourth-vs.-fifth playoff white knuckler. But this is where the timing CONCACAF Champions League action does a disservice to the teams involved. Because Houston (like others in MLS) has to pay attention to those matches, as well.
6. Chicago Fire – Chris Rolfe (pictured above) for MLS Newcomer of the Year? (Or perhaps Comeback Player of the Year?) I know Victor Bernardez and Federico Higuain and some others will make a big claim for Newcomer, but the Fire's do-all attacker is having a fantastic season since recovering from spring injury. And the Fire? They haven't done much … except rise from rather anonymous status in 2012 to Eastern Conference challenger, suddenly pushing Sporting Kansas City for top spot.
5. New York Red Bulls – "Dear Rafa Marquez: If you keep playing as sharply you did in Saturday's 3-1 win over Columbus, pinging those balls into Thierry Henry and effectively linking the play through midfield, even making a couple of big runs forward, we will consider taking back every derogatory thing we ever said about you. No promises! But it does begin with continued performance on both ends of the field. Best."
4. Angeles Galaxy – How about that Marcelo Sarvas! European veteran Christian Wilhelmsson made his debut, and Landon Donovan got back on the field – and what was everyone buzzing on about? About Sarvas and the impact he had on a 2-0 win over Colorado. The Galaxy travels into Puerto Rico this week for a match with the Islanders and a chance to more or less cinch off Champions League group stage matters.
(MORE: Sarvas makes ProSoccerTalk's MLS Team of the Week)
3. Seattle Sounders – Fredy Montero has 12 goals and 6 assists. And his goals always seem to have that certain panache.  (Did you see that out-of-nowhere shot and goal in Saturday's 1-1 draw at Portland?) If the feisty Colombian attacker can boost that assist rate just a tad and add, say, two or three more goals over the Sounders' final six matches, can't we make a compelling argument for league MVP?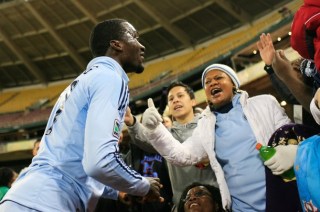 2. Sporting Kansas City – Peter Vermes' team did enough to own the night against Houston, but the inability to generate maximize points in more of these matches at home must be concerning. (Not to mention the concern over not being able to get over on Houston at home; Friday's 1-1 draw makes SKC winless in its last three against Houston at Livestrong Sporting Park.) C.J. Sapong (right) may be coming on, which would provide a huge boost.
1. San Jose Earthquakes – A little PK controversy shouldn't subtract from another businesslike win for the league's top team. Western Conference clubs may not publicly acknowledge it, but it's time to start jostling for second place, third place, etc. – because they aren't going to reel in San Jose. Another win or two (a golden opportunity is up Wednesday as Portland comes to town, surely vulnerable after such an emotional afternoon against Seattle) and San Jose will be out of reach for New York, Chicago and Sporting Kansas City, the only Eastern Conference clubs that can realistically chase down San Jose for Supporters Shield spoils.