Soccer birthdays:
Is Marco Materazzi the most famous victim in soccer history? Everyone following the global game six years ago remembers the bizarre moment when the peerless Zinedine Zidane famously head-butted an Italian defender during the 2006 World Cup final. That defender was Materazzi, who turns 39 today.
(Head-butting someone square in the chest! I mean, who even thinks of such a thing?)
Newcastle defender / midfielder / free kick specialist Ryan Taylor turns 28 (the quintessential sweet spot in most pro soccer careers: old to know, still young enough to do.)
Big Important Stories of the Day:  
The other half of Champions League group stage round 1 is up today, and there are some dandies, of course.  Chelsea, Juventus, Celtic, Manchester United, Barcelona, Bayern Munich and Valencia are all on the grass today in the world's richest club team competition.
On our side of the Atlantic, a contest between two of the top Eastern Conference clubs (Sporting Kansas City and New York) tops a threesome of MLS matches.
RASNoD (Random American Soccer Name of the Day): Shep Messing
Twitter daps: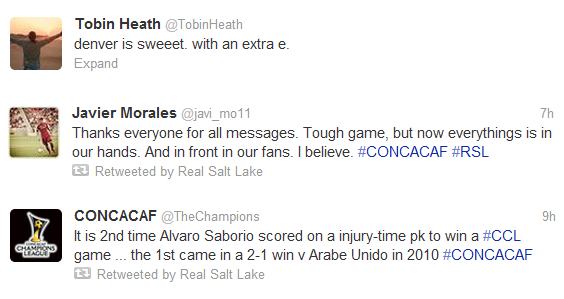 *Ahead on the blog today: Previews from Richard Farley of the other four Champion League groups are already up.
We'll have "Winners and Losers" from the Champions League matches, plus analysis and highlights from MLS matches and the L.A. Galaxy's and Sounders' CONCACAF Champions League appearances.
What you should watch on TV today:
Chelsea-Juventus is the feature Champions League match on Fox Soccer Channel at 2 p.m. ET
Manchester United – Galatasaray follows on FSC (on delay) at 5 p.m. ET
Other UEFA Champions League matches are scattered across the other Fox platforms (Fox Deportes and Fox Soccer Plus)
If the MLS playoffs started today (following 28 rounds):
Eastern Conference
(Wildcard round)
(Second round)
Sporting Kansas City vs. Wildcard winner
Chicago vs. New York Red Bulls
Western Conference:
(Wildcard round)
Real Salt Lake vs. Vancouver Whitecaps
(Second Round)
San Jose vs. Wildcard winner
Seattle vs. L.A. Galaxy
PST background noise while blogging today: Podcast day at ProSoccerTalk headquarters. Soccer podcasts, naturally.
*Always subject to change; you know how it is…